North East
Gajraj Corps Carries Out Flood Mock Drill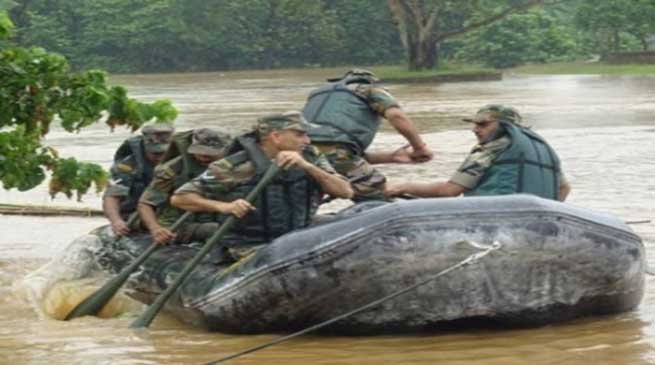 Rangia
As a pre-emptive measure to safeguard the lives of people in flood prone areas of lower Assam, troops of Gajraj Corps have started flood relief preparations with great intensity. Army teams have identified all low lying and flood prone areas and have made contingency plans to provide immediate relief in case of any calamity.
The flood relief columns have already been earmarked in advance for all Districts and comprehensive training and rehearsals are underway. Various sites for relief camps and medical aid plans have been worked out in conjunction with civil administration. The Army has also staged forward flood relief stores like boats, life jackets and specialised vehicles to specific forward locations for immediate reaction during time of floods.
The Gajraj Corps of India Army carried out a mock drill simulating floods in North Kamrup District along the Northern banks of the Brahmputra River.  A host of Army infantry, engineers and medical personnel were rehearsed in evacuation of  civilians in this scenario.  Representatives of NDRF were also integrated in the mock exercise to jointly enhance their preparedness levels and shared their past flood relief experiences. The Standard Operating Procedures have also been revised based on collective past experinces and lessons drawn and validated during the exercise.
 The Army is committed towards the safety and welfare  of the people of Assam. Troops will leave no stone un turned to provide swift and effective succor to the people in times of natural calamities.