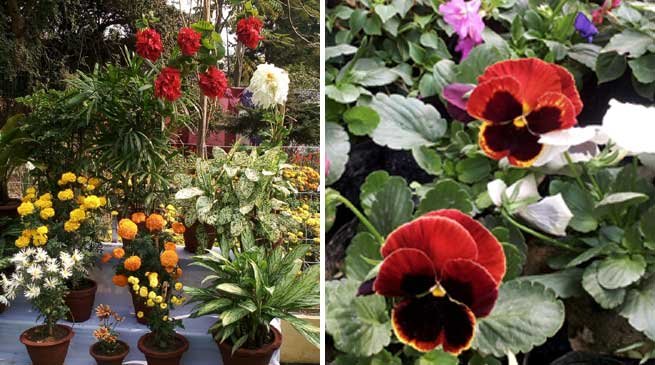 Hailakandi
By Sabir Nishat
A two-day flower show got under way in front of Deputy Commissioner's bungalow in Hailakandi town today. Inaugurating the flower show, Deputy Commissioner, Moloy Bora said it has been the maiden endeavour of the administration in association with several organizations to organize the event. Terming the flower exhibition as a small but noble beginning, Bora said he has been inspired and motivated to hold such an event in a small town like Hailakandi after seeing beautiful gardens in countries like Spain, Italy, UK and USA.
Bora said the objective behind organizing the show is to inculcate the love of nature among the school students. "Flowers of different hues and flowers touch the inner recesses of our hearts and induce purity of thought," he said.
The Deputy Commissioner said the administration is contemplating to start flower pot competition at the school level to instill the love of nature in the young minds. "I am mulling the idea to start a competition at the school level wherein a particular flower pot can be taken up as a model and put up for public display. The idea actually germinated in my mind when I saw rows of flower pots from different schools displayed in front of a municipal office in South Korea," he added.
Bora said the Chief Minister and the Chief Secretary are avid nature lovers and often confront him on questions relating to the environment. "My idea is see every space whether it be educational institutions, offices, public places, along road sides and pavements and private residences being utilized for growing flowers and plants. The revolution must start right from the DC's bungalow," he added.
Speaking on the occasion, Additional Deputy Commissioner, FR Laskar hoped the flower show held for the first time at the initiative of the Deputy Commissioner would gain in popularity with the passage of time.
Former district BJP president, Subrota Sarma Mazumdar, in his brief address, said flowers are for all occasions whether it be for religious festivities, weddings, birthdays, funerals and happy occasions and that the demand for flowers is ever increasing. "The demand for flowers is increasing day by day and one can reap benefits by cultivating flowers in a commercial way.  The only things required are proper infrastructure and marketing," he added.
Senior journalist, Nilotpol Deb said the idea was conceptualized in 2011 but did not materialise due to various reasons. Terming the flower show as a 'feast for the eyes', Deb hoped that it would stimulate love for nature among the school students. He thanked the DC for his prompt initiative and timely help from other agencies to make it a dream come true.
Wasim Al-Akram, a Class VIII standard student of Blue Flowers English Medium High School said he is in ecstasy to see so many flowers of different colours and shapes blooming at one place and fell head over heels in love with them.
Earlier, in his welcome address, Senior Agricultural Officer, AR Ahmed while lauding the efforts of DC and other agencies, hoped that the event would be a success in terms of participation from people and especially students. Ahmed said the two-day workshop will encourage and motivate the farmers and SHGs to go in for commercial cultivation of flowers in a big way.
Additional Deputy Commissioner, Ruth Lienthang delivered the vote of thanks. Dr. SK Md. Azizur Rahman, senior scientist, KVK, was present on the occasion.
Day 1 witnessed on the spot drawing competition by school students of junior and senior grades and flower competitions under three categories vis-à-vis potted seasonal flowers, cut flowers and potted ornamental plants. It saw participation from some local nurseries and one from Kolkata and some tea estates. Flowers were put up by the nurseries for both exhibition and sale. A workshop on commercial cultivation of flowers for expansion of livelihood activities got under way with several SHGs participating in it.