Arunachal
Fifty Percent Work of PMGSY Completed in Arunachal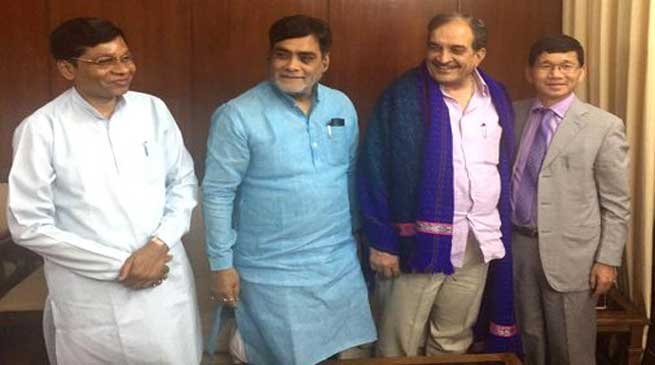 New Delhi
The present connectivity has reached about 50% in Arunachal Pradesh with significant contribution due to the flagship programme PMGSY ( Pradhan Mantri Gram Sadak Yojana ) .  This was explained by Chief Minister Kalikho during in a meeting with Union Rural Development Minister Birender Singh.
The CM in his comprehensive presentation explained to the Minister RD for special exemption on population norms for faster connectivity in the state of Arunachal Pradesh being strategically located with hostile terrain and difficult geographical conditions.
The Union Minister for Home Affairs also pushed for the demand of special dispensation in PMGSY to the state along with the CM.
The RD Ministry agreed to relax the existing norms on population from 250+ to 100+ in a cluster mode, for which the notification will be issued soon by the GOI.
On the demand of long span bridges upto 200 metres on the rivers of Siang, Subansiri, Kameng, Lohit and Dibang, the Minister RD agreed to consider the same for which a technical team from the Ministry will visit these areas to assess the actual requirement and suggest appropriate technology for construction of such long span bridges in forward areas.
The CM during the discussion with Minister RD pushed for border area connectivity within 50 kms from international border and the latter agreed to consider one-time relaxation in the population norms under PMGSY to provide connectivity to the villages in the border areas (Indo-China) situated at aerial distance of 20 kms. The state government accordingly will submit a proposal soon. The Minister RD also asked the state to use the roads being constructed by the MHA in border areas for border guarding force as take-off point for connectivity to the habitations located on international borders.
The Min RD agreed to enhance the allocation under PMGSY during RE stage on the request of CM from Rs 468 crore to 1100 crore, during the current year, in view of the enhanced target of the state for construction of 1000 km of road works and based on the performance.
The CM also apprised the Minister RD about the higher construction cost in remote areas with difficult and complex terrain. For qualitative construction, there should not be any comparison in cost with other states in view of the existing site conditions here. The Minister agreed to the proposal of the CM.
The RD Minister on request of CM also agreed to visit the state during September-October to have a first hand information of the remote and border areas.