North East
Felix hands over cheque of Rs 50 lakhs each to the next of kin of the departed soldiers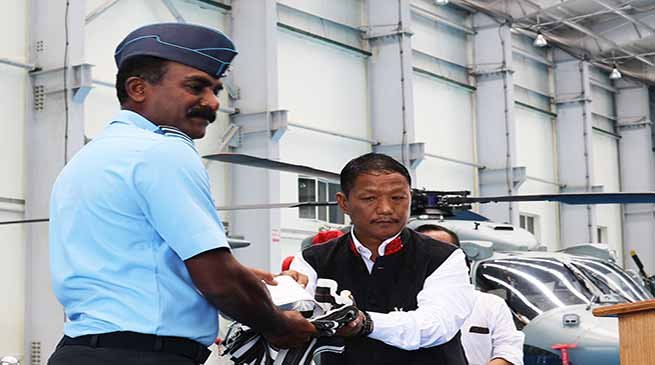 Tezpur
In an emotional event held at the Air Force Station on Wednesday, Arunachal Pradesh Minister for Public Health Engineering & Water Supply, Information & Public Relations and Printing and Parliamentary Affairs, Bamang Felix not only conveyed the gratitude of the state government headed by Chief Minister Pema Khandu but also of the 14 lakh-strong people of the entire state.
Not only  that, true to the announcement made by Chief Minister Pema Khandu only a couple of months ago, Felix handed over a cheque of Rs 50 lakhs each to the next of kin of the departed soldiers. The cheques were handed over to Air Officer Commanding (AoC), Air Commodore K V R Raju.
After this the Arunachal Pradesh  finally thanked, in real terms, Wing Commander Mandeep Singh Dhillon, Flight Lieutenant Pramod Kumar Singh and Sergeant Rajendra Yashwant Gujjar, who sacrificed their lives while on a rescue mission to evacuate stranded people in the state due to floods and landslides on July 4 last.
It must be mention here that " An IAF Helicopter manned by the three aircrew was evacuating people from Sagalee in Arunachal Pradesh on the fateful day. After making five sorties to Naharlagun Helipad it was returning to base late afternoon when it went missing at about 3.50 pm. Two days later the wreckage of the chopper along with dead bodies was located near Hostalam village, about 30 kms from Itanagar.
Felix, who is also the state government spokesperson, expressed solidarity with the bereaved family members, who couldn't make it to the solemn event due to their preoccupations. He said, "We can understand the whole range of emotions that the bereaved family members must be going through right now. While we pay our heartfelt respect to the heroes, we stand by you at this tragic hour to express our profound condolences for the irreparable loss you have to endure with."
Appealing the bereaved families and the IAF not to take the token amount otherwise, Felix said, "Although this small amount will never match the supreme sacrifice these heroes have made, I would most humbly request the bereaved families to accept this as token of love and appreciation from the people of Arunachal Pradesh."
He also expressed sincere gratitude to the Indian Air Force for time and again helping the state whenever approached.