Sports
Federation Cup: Shillong Lajong FC vs Mohun Bagan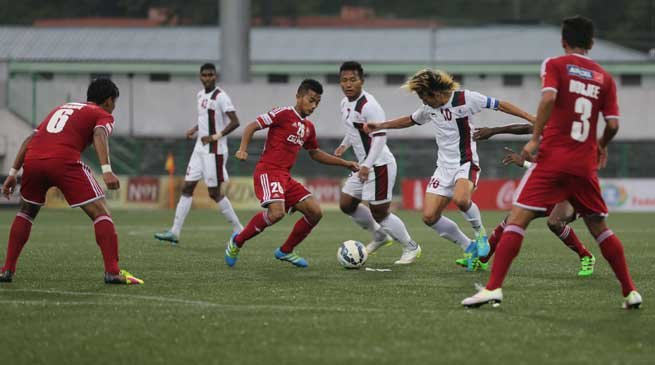 Shillong
Shillong Lajong FC played out a goal less draw at the J.N.Stadium, Shillong in their 2nd leg encounter of the Federation Cup played today in Shillong. Lajong had gone down by 5 goals to nil in the first leg played at the Barasat Stadium and it was always going to be a monumental task for the home side to get back into the tie.
Shillong Lajong FC began brightly and looked to be ready to try and bag a few goals so as to give them a chance of bringing back the tie but they could not finish their chances. The first chance of the match fell to the home side from a corner that was whipped in by Bipin Singh. The scrambled chance though fell to Sana Singh but the Lajong defender got under the ball and fired it over. The visitors were quite content to keep the ball in possession and did not try to intercept either when the home side had possession. The Reds did create some good quality chances in the first half, Sana Singh again found himself within a corner scramble in the 23rd minute but this time he met his head on the ball but yet again it sailed over. The first half was lacklustre other than the Lajong chances as the visitors were happy with defending and absorbing the pressure. The match went into the break with both the sides levelled.
The Reds looked like they got a motivational talk from coach Thangboi Singto at half time and that did work in the second half as they sure did look livelier and even more likely to score than their opponents. Consecutive corners could only manage to create panic amongst the visiting defence but could not convert the chances into the score sheet. The closest chance did fall to Brazilian forward Fabio Pena at the 70th minute. The striker was released on his own, ran at the advancing goalkeeper and then slipped past him but could not control his shot as his effort hit the first post and deflected back into play.
The match went back into midfield and was superiorly dominated in possession as Lajong kept trying to open the score but the Mohun Bagan remained resilient knowing that they would advance to the Final based on their first leg display. The result was imminent and the final whistle blew much to the delight of the Mariners as they now sail into the final having got the better of Lajong in the first leg. The five goal advantage brought from the first leg was more than enough to secure another chance for the Kolkatta side to pick up another Federation Cup.