Arunachal
Father's plea for daughter's treatment in Chief Minister's "Janta Darbar"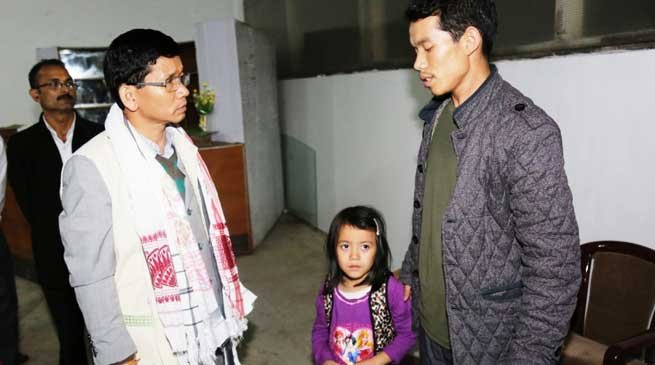 Itanagar
A Father's plea for daughter's treatment in the Chief Minister's first "Janta Darbar" pull the attention of all the people along the media present there.
Since last three years Gollo Tango, a 27 years old resident of Parang village in Papumpare district had been desperately trying to raise money for his six-year-old daughter Gollo Namper needing a skin graft treatment. Gollo Namper was only a year old, when she had her chest areas accidentally spilled by boiling water suffering third degree burns.
 Help finally came through Chief Minister Kalikho Pul, who agreed to help fund his daughter's treatment. Tango had met the chief minister through his "Janta Darbar" organized every Saturday to address grievances of the public.
Tango informed to the Chief Minister that he would need Rs 30 lakhs as medical bills necessary for breast transplant operation in South Korea. Namper is currently undergoing treatment at city's Niba hospital. To raise funds, Tango had earlier appealed to local politicians and wrote letters to newspapers; but all in vain.
 With promise to help fund his daughter's treatment, the chief minister also made financial contribution from his pocket expenses and instructed his officials for immediate release of Rs 30 lakhs for Namper's treatment abroad.
Namper had undergone treatment since last three years and had partially recovered. But as she grew, her burnt scar also matured. This led to serious complications leading to scar contracture that left her father worrying. The skin deformities on her chest could hinder normal growth of breasts as scar thickens and tightens with time. He says he would never give up finding care for his daughter, and had taken her to different hospitals and was referred by doctors that sooner she received treatment, less likely the condition to become complicated.
The CM in his first "Janta Darbar" met around 600 people by turns, which started around 10 am and ended the next day at 5 am.
He met people from all walks of life – union leaders, physically challenged people, students, music artistes, health professionals, priests, panchayat leaders, teachers, etc.
 Also people from far flung places, such as, Longding and Singa in Upper Siang where there are no road connectivity came to meet the CM.
 On spot redressal and actions were ordered acting on people's grievances and complaints in the "Janta Darbar" held in the Chief Minister's official residence.
 Seated in a row with his officials, the CM in his 7-hour exercise went through every application, made queries for authentication and handed it over to the officials for further action.
He gave preference on issue related to health and education as he ordered official concerned to look into matters of job regularization of SSA teachers, KGBV teachers, health assistants, lab technicians etc.
 "I waited since 8 am and finally got the chance to meet the CM at 11 pm, but it was worth waiting for," said Tango.