North East
Farmers can cultivate their land up to International Border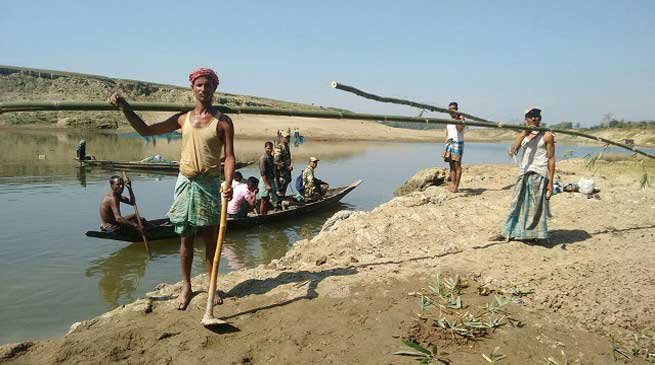 Silchar
A long pending issue of Joint verification of Boundary Pillars that was abruptly stopped since August, 2006 in area of border villages Harinagar, Kinokhal and Chandinagar, Distt. Cachar, Assam was finally resolved amicably by the all-out efforts of Border Security Force which will facilitate the genuine Indian farmers to cultivate their land  ahead of  Surma River upto International Border.
International boundary in area of the above villages  is well demarcated but due to change of the course of River Surma which runs almost parallel  to the International Boundary, a large chunk of 'Char Land' have formed ahead of River Surma. Agricultural land  ahead of Surma River approx 220 Acres was not being cultivated and left abandoned since August, 2006 when troops of the then Bangladesh Rifles (now BGB) fired mortar shells and automatic weapons on India side compelling BSF to retaliate be-fittingly, thereby causing  serious casualties of both civilians and Border Guarding personnel on either side.  Since then, neither the cultivation was done by the Indian villagers  nor the Joint Verification of Boundary Pillars was carried  out between the two Border Guarding Forces  in said area.
Since the working relationship between the two Border Guarding Forces are cordial due to the bilateral understanding between  the present Governments of both the Countries, the long pending issue of Joint Verification of Boundary Pillars in above area was resolved on 14th January, 2017 between the Commanding Officers of both  BSF & BGB.   This has brought happiness amongst the  people of above Indian border villages,  enabling  them to cultivate their abandoned land  and march towards prosperity.