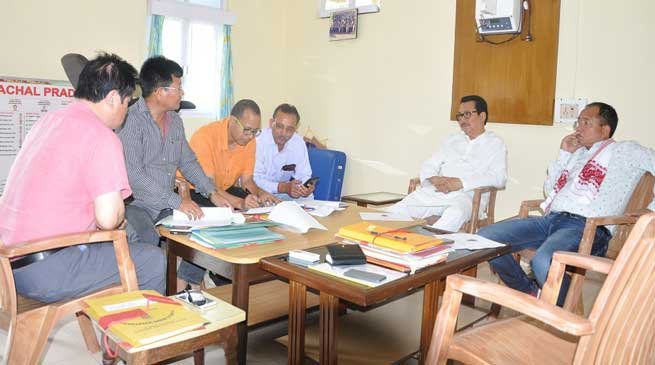 Itanagar
"Execution of PWD works will not wait for the State Development Council (SDC) Meeting but the execution of PWD works will start soon after the finalization of SADA," this was informed by Deputy Chief Minister Chowna Mein in a preliminary meeting of PWD State Annual Development Agenda(SADA) previously known as Annual Operating Plan(AOP) with the Parliamentary Secretary for PWD, Techi Kaso and Chief Engineers of PWD at his official residence on Friday.
In the meeting, Mein said that the Finance Department has already given directives to all the departments to prepare SADA/AOP on or before May 10 and to submit it to the Finance Department for vetting. He stated that this working system has been implemented in line with the Central Govt style of working so that the developmental schemes/projects are implemented maintaining a proper time frame. He asserted that with this system of working the hassle of March end would be reduced and this would also help to check corruption to some extent.
DCM emphasized on equal distribution of developmental fund to all the districts and constituencies so that fruits of development reach to all the regions and sections of the society. He also called for judicious use of fund and to create visible infrastructures/assets instead of piecemeal allocations of fund to individual schemes. However, he said that the schemes should be prepared within the budget allocation and it should not exceed the budget allocation. He also cautioned against overlapping or duplication of schemes.
Mein while giving nod for continuation of the construction of CC pavement roads in the remaining and uncovered districts said to allocate fund for the same on need based. He also directed to keep an inventory of old bridges in the state so as to identify the weak bridges as per their life span.
Parliamentary Secretary for PWD, Techi Kaso said to keep fund for construction of CC pavements in remaining sector roads, bridges and drainage system in the capital region while citing that the state capital is the heart and reflects the image of the state. If good works are started from the capital, it will surely spread to the districts too, he added.  He also discouraged sanctioning of individual schemes and to take up schemes for common masses that will benefit all.
He also pitches for construction of septic tanks in sectors for creating a hygienic atmosphere in the state capital while informing that many schemes under Urban Development has been delinked and there is no provision for schemes under BADP and PMGSY in the capital.
K Waghe, CE (Western Zone) requested to provide sufficient time for survey and investigation for designing and planning of bridges so that beautiful and long lasting bridges can be designed and built suitable to the river courses in our state.
Among others, Chief Engineer (Central Zone A), Hage Appa and Assistant Engineer (Design & Planning), Tumken Ete also attended the meeting.