Sports
Dorjee Khandu All India Senior Ranking Badminton Tournament 2016 Begins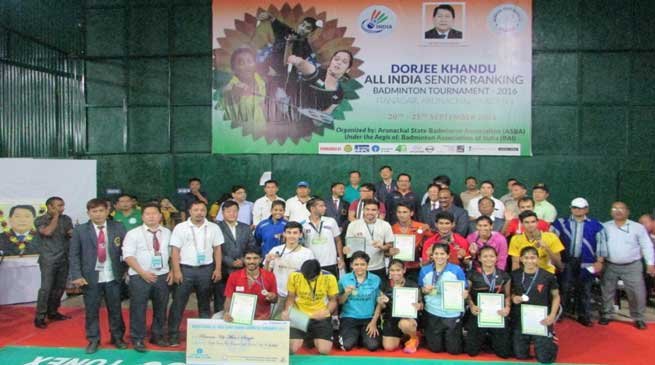 Itanagar
Chief Minister Pema Khandu today declared open the final rounds of the first Dorjee Khandu All India Senior Ranking Badminton Tournament 2016 here at Raj Bhawan Badminton Indoor Stadium.
The tournament organised by Arunachal State Badminton Association (ASBA) under the aegis of Badminton Association of India (BAI) saw 278 players participate in the qualifying rounds that concluded on Wednesday. About 500 players from all over the country representing their respective states will be participating in the 6-day event.
Earlier, the Chief Minister paid tribute to late Dorjee Khandu, former Chief Minister of Arunachal by offering of flowers to his portrait and by lighting lamps.
Speaking as Chief Guest on the occasion, the Chief Minister said that this is the first ever state's own sports event of national level being organized. He congratulated BAI and appreciated its support in holding the event despite the state lacking adequate facilities and infrastructures.
"Our country is performing well in sports and excelling especially in badminton. In Rio Olympics, our young player PV Sindhu brought laurels for the country by winning the silver medal. Also our Saina Nehwal has already carved a name for herself in badminton," said Khandu.
Acknowledging the growth of young sporting talents of North East in badminton, the Chief Minister assured that there will be no dearth of support from the state government.
"I want to assure our badminton lovers that state government will do its best to encourage sports in the state," he said.
On measures being taken by the state government for promotion of sports, Khandu informed that the state will soon have a badminton academy.
In order to provide job security to sportspersons, he informed that state government has mandated 10% job reservation in all government departments. He also spoke on the advantage of playing sports that contributes to good health and inculcates sense of discipline among the citizens.
The Chief Minister conveyed his best wishes to all the players participating in the tournament.
Earlier, BAI Secretary (events) K. Ch. Punnaiah Choudary also spoke on the occasion besides President ASBA Rotu Techi, Hony Secretary Bamang Tago and Vice President Tame Phassang.
The inaugural event was attended by Parliamentary Secretary for Sports Nyamar Karbak, Parliamentary Secretary for Education Bamang Felix, Parliamentary Secretary for Art & Culture Dikto Yekar, Parliamentary Secretary for Food & Civil Supply Markio Tado, Parliamentary Secretary for RWD Jambey Tashi, Arunachal Olympic Association President Padi Richo and Sports & Youth Affairs Secretary Dani Salu.
Later in the day, the Chief Minister laid the foundation stone of Dorjee Khandu Badminton Academy at 6 mile near Sannggo Resort along the Itanagar – Naharlagun Highway. Ministers Tanga Byaling, Nabam Rebia and Honchum Ngandam, Parliamentary Secretaries Karya Bagang and Tapuk Taku and the Chief Secretary also joined the foundation stone laying ceremony.