North East
"Destination North-East-2016", begins in Delhi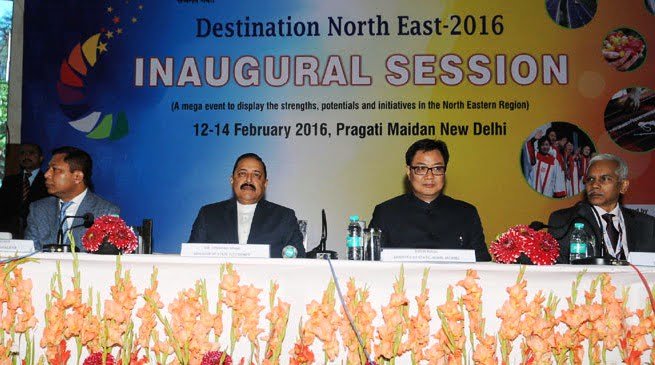 New Delhi
The Union Minister of State (Independent Charge) Development of North-Eastern Region (DoNER), Dr. Jitendra Singh and
Minister of State for Home Affairs, Shri Kiren Rijiju inaugurated the festival 'Destination North-East-2016' here today. The festival is being organised by the Ministry of Development of North-Eastern Region (DoNER) and Ministry of Culture. The festival will showcase the inherent economic, social and cultural strength of the North East Region (NER) at the national level.
While inaugurating the festival, Dr Jitendra Singh said that the North-East will be developed into a key destination for young entrepreneurs and Startups. He also said that North East festivals will be organised in Mumbai and Bangalore in the coming months. He said that direct flight from Delhi to Dimapur is a major step in making North East more accessible. The rest of India needs to be connected with North East in a meaningful way, he added. He said that the Prime Minister Shri Narendra Modi is taking keen interest in the development of North East. He also emphasised upon the need to upgrade academic institutions in the North East to provide quality education and develop the human resource.
At the inaugural function, Shri Kiren Rijiju said that the Development has nothing to do with distance and location. The growth engine is built on the aspirations of people, not location.
The Chief Minister of Meghalaya Dr. Mukul Sangma who was also present on the occasion, said that despite the geographical constraints, there is a growth momentum taking shape in the North-East. There is a need to tap the unique and exclusive strengths of the North East, he added. He said that it is time to carry forward the momentum more aggressively. Emphasising on the role of Bamboo in the growth of the economy of the North East, he said that Bamboo, the wonder grass, can be a real game changer for the North East.
Meanwhile, the three-day mega event will include theme specific Business Summit consisting of sectors like Tourism, Agriculture, Food Processing, Skill Development & Entrepreneurship, IT, Handloom & Handicrafts, Livelihood, Micro-Finance and Start ups. Destination North East will enable various Central Ministries to showcase their initiatives in North East India. The event will also have cultural programmes to showcase the rich culture and folk dances of North East India.