Arunachal
Deputy CM Chowna Mein Inaugurated 3rd ANYA Running Football Tournament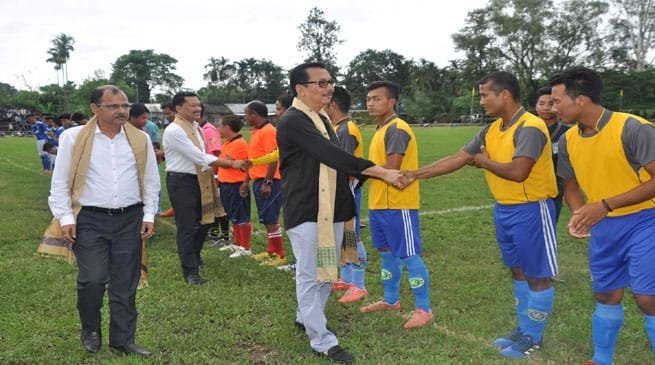 NAMSAI
Deputy Chief Minister, Chowna Mein kick-started the 3rd ANAYA Running Football Tournament amidst the large gathering of football fans at APIL Ground in Namsai yesterday.
In his inaugural speech, Mein lauded the organizers of the football tournament, All Namsai Area Youth Association (ANAYA) for their initiative towards a good cause. He encouraged the youths of the district to take active parts in such kind of games & sports event enthusiastically and to use their strength in more positive way. Citing Drug addiction a grave concern for all sections of the society, he called upon the parents and guardian to lend their helping hand to the district administration, police, youths and community based organizations in their efforts to eradicate drug addiction from the district. He said that we need to wage a collective war against drug menace to eradicate it completely from the society and appealed to all for concerted efforts saying that no individual or single organization shall able to win the fight against drug menace. He requested the district administration to draw a holistic action plan to arrest the growing menace along with the district police, youths and community based organizations to safe the future generations.
He extended his full support to the organizers/youths, participating teams and people of Namsai District in their fight against the drug menace.
Chow Zingnu Namchoom, Parliamentary Secretary for Planning & Investment and Personnel also appreciated ANAYA and All Tai Kampti Student Union for their initiative against drug abuse in the district. Extending his support in their efforts, he said it as the call of the day and actions in right direction for better future. He advised them to be cautious while dealing with drug addicts and in their attempt to catch the drug peddlers red handed.
President ANAYA, Chow Tishanam Singkai while speaking on the occasion said that the football tournament is a part of our campaign against drug addiction with the objective to engage the youths towards more meaningful activities.
The winner of the tournament will receive a cash prize of Rs 50,000 and the runner up Rs 30,000 along with the trophies. The first match was played between Namsai FC and Mahadevpur UC.
Among others, Deputy Commissioner R K Sharma, DIGP (East) Apur Bitin, SP C K Mein, HoDs and Public Leaders were also present on the occasion.