National
Delhi HC Rejects Plea For FIR On Pul's Suicide Note, Slaps Rs. 2.75 Lakh Fine On Petitioners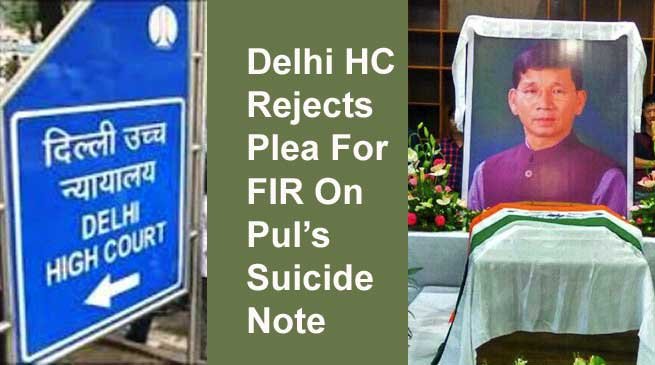 New Delhi
The Delhi High Court on Monday rejected a Petition filed by a group of lawyers for lodging an FIR on the allegations made in a purported suicide note of former Arunachal Pradesh Chief Minister Kalikho Pul, and slapped a fine of Rs 2.75 lakh on the Petitioners.
The High Court stated that they could not prove the authenticity of the purported note. It also laid down that the petitioners were making "wild allegations".
The court noted that none of the petitioners could prove the authenticity of the note and it was only on the basis of hearsay. The petitioners had contended that not regarding the reputation of the judges, "there was a need to conduct an investigation to allay the shadow and doubts from the public mind." However, court was not impressed.
In the events leading up to this petition, Pul's wife had earlier written a letter to the Chief Justice of India, JS Khehar, and had requested the court to look into the matter. On this request, CJI had then converted the letter into a petition and had listed the matter before a two judge bench.
But senior advocate Dushyant Dave appearing on behalf of Pul's wife withdrew the petition and had objected to the matter being listed on the judicial side.
It must be mention here that after  Pul committed suicide on August 9 last year, he had left a 60-page suicide note where had levelled serious allegations against politicians and members of the judiciary.