Arunachal
DC appeal the capital dwellers to maintain cleanness and hygiene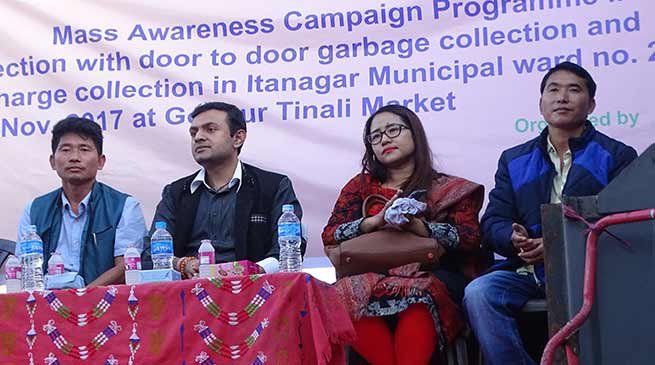 Itanagar
Capital complex Deputy Commissioner Prince Dhawan appeal the capital dwellers to be a part of cleanness campaign for hygiene and better health.
Dhawan addressing the gathering at Gohpur Tinali in Ward No-2 on the accession of the mass awareness campaign programme in connection with door to door garbage collection and civic charge collection in Itanagar at Ward No-2 at Gohpur Tinali today cooperation and support of all stake holders for  successful implementation of sanitation schemes in the city.
Dhawan said that there have been lots of indifference in the IMC due to which the sanitation activities were disturbed and now IMC have delivered a vehicle to all 30 Ward right from Chimpu-Banderdewa.
The carrying of garbage shall have no problems in Ward No-2 as SHG have been entrusted with 18 labour who will all clean the different parts of the Ward from Sanglopotung colony, Zoo area, ESC colony, Gohpur area and all area of the ward.
The IMC labour shall from today will collect garbage from the respective area of the Ward at given time early morning who will dispose to the IMC vehicle for proper disposal to the dumping ground subsequently.
There is a need of maintaining daily routine for  maintaining cleanness and disposal of garbage to IMC labour and IMC truck and appeal for payment of civic charges regularly.
He also warned those who do not dispose garbage to of the colony/Ward and threatened to issue challan of sum of Rupees Five Thousand and later recovery from the sources after hearing in the court of CMEO of penalty.
IMC Councillor Tatung Tania in his address express his desire to have a coordinated effort in cleaning his ward. He elaborated all his efforts in cleaning the ward with support of the public by organising social service several times.
He also express his inability in taking up various project in this ward during his tenure due to which he tender his resignation from the ESC member of IMC. He however maintain that he shall shoulder his responsibility in all  activities in his ward.
IMC Engineer Chakpu Raju Economic statistic welfare committee (ESWC) President GR Richo Neri, among other address the gathering
38 Dustbin were distributed among the local residents by the chief guest. Few eminent personalities of the Ward NO-2 contributed civic charges to the IMC on the occasion in which few of them submitted one time civic charges for a year