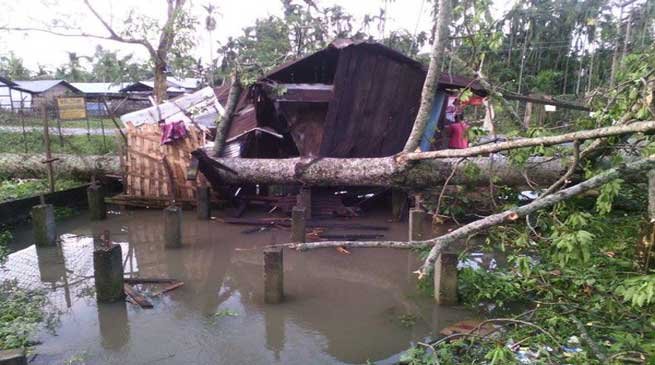 Jairampur
By Ripunjoy Das
A high intensity cyclone created havoc at Singwan village under Manmao circle in Jairampur sub division of Changlang district on Friday evening during which one lady was reported to have sustained injuries and there was massive damage to houses.
Additional Deputy Commissioner of Jairampur Kento Riba who led a high level delegation to the cyclone hit area today said over telephone that due to the cyclone 6 houses were completely damaged while 6 others were partially damaged. "There are 15 dwelling houses in the village which is 8 kms from Manmao circle headquarters and in all 43 kms from Jairampur", Riba said.
The ADC also informed that Rs. 3000 each was handed over to the families whose houses has been completely blown away, while Rs. 2000 each was handed over to the families who houses were partially damages as an immediate relief. "Apart from the cash relief we also distributed around 10 quintals of rice, mineral water bottles and other edibles. The personnel of Assam Rifles too are lending a helping hand in carrying out relief and rescue in the cyclone hit village", the ADC said.
A meeting was also held at the village involving panchayat representatives to chalk out a strategy to rebuild the village. A medical team will also be send on Friday to the village.