Sports
Constituency Level Hangpan Dada Memorial Trophy 2017 kicked off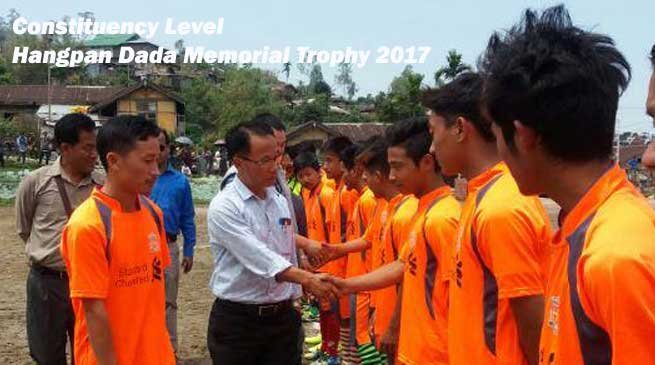 Khonsa
The 1st Ever Constituency level Hangpan Dada Memorial Trophy 2017 for 55, 56, 57 Assembly Constituency level tournament was kicked off  at Nehru stadium on Monday amidst huge gathering of participants, sports lovers, spectators, from all constituency of Tirap District.
The  ADC in-charge of Tirap district  Techu Aran while inaugurating  tournament  said that it is a moment of proud and privilege for all the Tirapians in particular and state of Arunachal Pradesh and country as a whole that Ashok Chakra Posthomous Hangpan Dada who sacrificed his life fighting against terrorist when protecting  his own motherland India on 27th May, 2016 in whose memory the tournament is being conducted who was born in the soil of this District Tirap at Borduria village.
It must be mention here that is the 1st Arunchalee to received the highest Gallantry Award "THE ASHOK CHAKRA".
Tirap District Sports Officer Roy Mihu termed the inaugural day as great occasion for the Tirapians and apprised the gatherings that Government of Arunachal Pradesh has renamed the erstwhile CM Trophy as Hangpan Dada Memorial Trophy to acknowledge and to commemorate the service been rendered by Martyr Hangpan Dada'
Mihu emphatically urged all the Team Managers, Coaches and Participating teams to play the game in true sportsmanship spirit.
The inaugural football match for men played between Lainwang Foot Club V/s. Upper Kolam Football Club from 55-Khonsa East Assembly Constituency where Lainwang Foot Club beats Upper Kolam FC by 1 – 0 and in the second match today Lapnan FC beats Kothung FC by 6 – 0.
The constituency level Tournament shall continue for 6 – 7 days and soon after completion of Constituency level, District Level Tournament shall tentatively starts from 27th April, 2017. T