Arunachal
Commercial flights service from Pasighat ALG may soon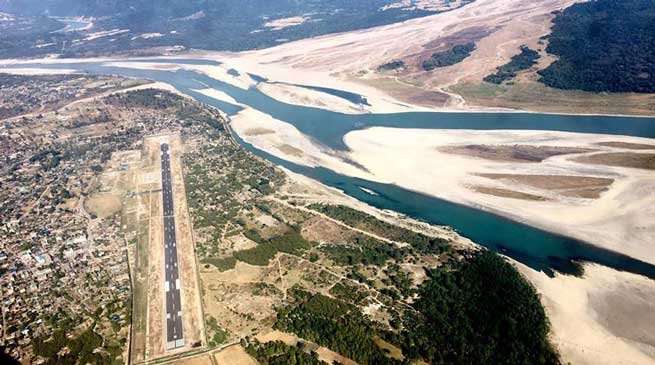 Pasighat
Finally, the most awaited dream comes true. Commercial flights service from Pasighat ALG may soon be a reality. Private airliners are keen on starting operations within this month with a separate terminal for civilians. The existing civil supply office building, adjacent to the ALG will act as an interim terminal before the national terminal is built.
Local MLA Kaling Moyong along with DC Tamiyo Tatak, officers and engineers today visited the airport premises and inspected that were nearing completion. The team inspected the facilities of the temporary civil terminal building and the final modified plans for renovation and immediate installation of XBIS (X-Ray Baggage Screening) machine, entrance and exit gates, approach roads, parking, counters, check-in area, arrival hall, aviation lounge, baggage makeup area, waiting room, public utility etc.
Local MLA Moyong informed that he was delighted to be a part of the development adding that state government finally resolved all pending issues and moving ahead on the work for it. The present terminal is expected to establish new bench-marks of functional efficiency and operational safety for airports, he hoped. Moyong asserted that the construction of the upcoming high-class full-fledged civil terminal project by AAI (Airport Authority of India) would be a shining example of dynamism of the present state's Chief Minister Pema Khandu who is closely monitoring all developments and pursuing the union ministry.
DC Tatak stressed on reasonable and latest design features maintaining quality and standard in addressing critical environmental concerns like those of energy and water efficiency and indoor air quality. While modifying the existing building, the engineers/experts should ensure that it is eco-friendly and convenient to all categories of passengers.