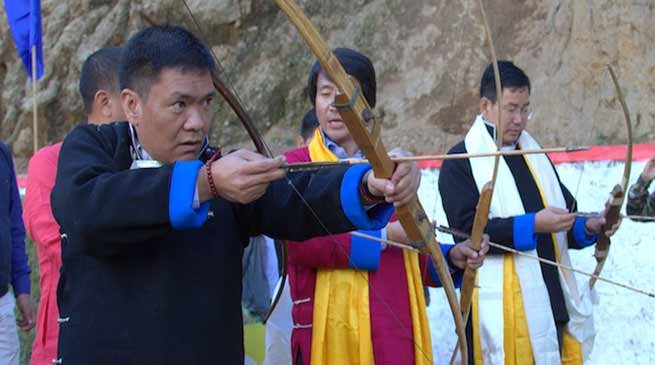 Tawang
Chief Minister Pema Khandu today inaugurated the Archery Stadium at Lumla in presence of State BJP President Tapir Gao, RD Minister Alo Libang, Art & Culture Minister Dr Mohesh Chai including Parliamentary Secretaries Jambey Tashi, Phurpa Tsering, Laisam Simai and Hydro Power Corporation Limited Chairman Tungri Effa.
The construction of Stadium executed by PWD was constructed at the cost of Rs 1 crore that began a year ago and was completed this year in March.
Earlier in the day, the Chief Minister inaugurated the Circuit House Annex, Multipurpose Auditorium and Children Park & Open Garden Gym at Lumla. He also inaugurated the Indoor Badminton Stadium at Dudunghar village.
Following the inauguration, the Chief Minister attended the foundation ceremony of Gyelwa Jampa Statue at Bhuri Khandorong situated near the tri-junction of India, China and Bhutan border in Lumla constituency.
Locals, monks, cultural troupes and delegates from Bhutan accorded warm welcome to the Chief Minister upon his arrival at the Bhuri Khandorong.
The ceremony began with the lighting of lamp and Mandre offering by Chief Minister. He laid down the pillar foundation of Gyalwa Jampa Statue.
The Chief Minister in his speech thanked the elders, ex Ministers, legislators of the Tawang district for their vision in infusing work culture here. He also thanked the govt officials for maintaining the work culture in the district.
Stating that government cannot depend only on state's resources, the Chief Minister urged the govt officials to make use of central flagship programmes. He informed that a committee of ministers, officials and public leaders has been formed to conduct awareness campaign on central flagship programme in all districts of Arunachal. He said not many officials and public are aware of these flagship programmes and hence the need for such awareness campaign.
He further reiterared that present government is determined not to keep any issues pending left unresolved by the previous governments. He said few of the pending issues such as, functioning of east and west divisional commissioners, extension of retirement age for govt servants, construction of airport for Itanagar, functioning of Lower Siang district etc have been settled. The Chief Minister also said that the pending issue of Chakma-Hajong is also being worked out and informed that govt of India has expressed its seriousness to solve the issue.
Earlier, monks of Tawang Monastery performed a ritual dance. A cultural troupe from Bhutan also performed during the ceremony.