Arunachal
CM Pema Khandu Appeals for working together as Team Arunachal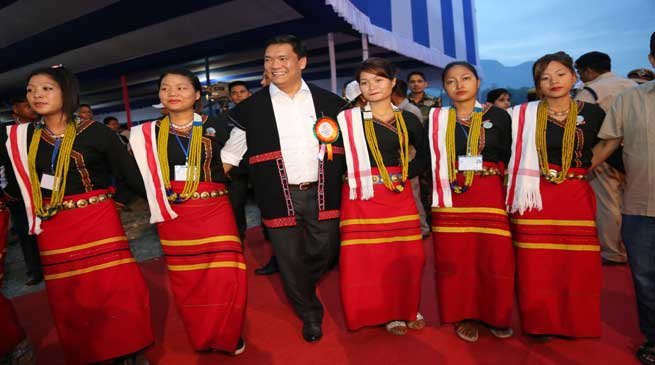 Pasighat
Addressing the concluding evening of Mega Solung celebration Chief Minister Pema Khandu  has called upon the people particularly the younger generation that "We should not forget our roots" while making fervent appeal to take all efforts to protect and preserve our cultural heritage and save it from dying out.
We should work together as "team Arunachal" take the step towards the path of growth and progress and sustainable development Khandu sad on the occasion. while stating that we need to harness the vast potentials in various sectors viz agriculture horticulture tourism. He said the expert  advice will be roped in for boosting these sectors. In the direction Arunachal Pradesh advisory committee will be constituted soon.
Informing the state government will come up with long term policy for sustainable development. The CM said sad that government will support self-sustainable initiatives towards generating employment opportunities for the youths of the state. Air connectivity will facilitate landing of passenger flghts to the centurion town will promote as tourism hub including private investments and business opportunities. He appealed all the elected representatives cutting across party line towards development of the state. Stating that the state is depended on central funding with its limited resources he also suggested for third party monitoring so that benft of the government development program percolate down to the grass-root level. Guest of Honour MLA T Taga also called for preservation of the reached cultural heritage particularly the Abangs of Adis. He expressed hope that Giid Noto will turn into cultural center. On the occasion many were felicitated for their contributions in the field of cultural development and other areas. Till filling of this report Miss Lune and fashion design contest were progress.