Arunachal
CM Khandu Visted Flood Affected Namsai District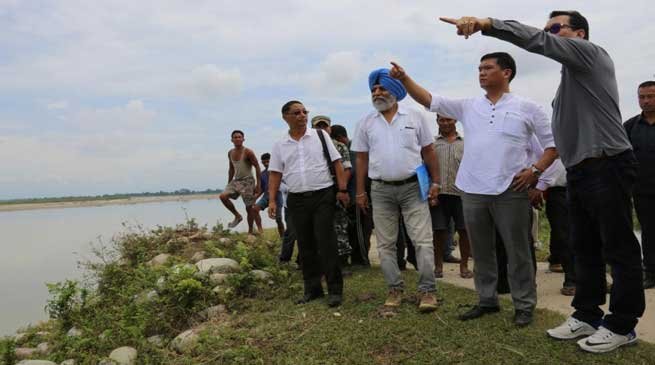 Namsai
To address the recurring flood crisis in the state, Chief Minister Pema Khandu on Friday called for finding long-term solution instead of short-term measures during his visit to Namsai to take stock of the flood-affected areas in the district.
He was accompanied by Deputy Chief Minister Chowna Mein, newly inducted Ministers Kumar Waii and Kamlung Mossang, and MLAs Pasang D Sona and Zingnu Namchoom. Chief Secretary Shakuntala Gamlin, Commissioner (Disaster Management) Hage Kojeen and Chief Engineer (WRD) Modak Ngomdir were also present on the occasion.
 "The flood occurrence is not new. Since 1995 people of Namsai district has struggled with the floods. What we need is a lasting solution. For that I have brought along senior ministers, Chief Secretary and heads of departments so that they could help us find solution to the recurring problem," said the Chief Minister.
Chief Minister along with his team inspected the breached embankment of Noa-Dehing River that had taken a new course through low lying areas of Lower Silatoo, Nongkhong and Mahadevpur areas crossing National Highway NH 52 to rejoin its original course near Mahaloni village.
The breached river has now posed danger to entire Mahadevpur town and could be a threat to Namsai area if the river is not diverted to its original course, informed the officials.
For diversion of the river in the breached point to its original course will involve latest technology. Chief Minister informed that the work will be entrusted to WRD department who will consult specialized firms for river piping to prevent erosion along the 2 km of breached embankment.
"What we want is long-term solution. The cost will be high but efforts will be on. I have fully authorized the Chief Secretary to go ahead with the work," he said later in a public meeting in Namsai town announcing that the project to divert Nao-Dehing River to its original course will be started soon.
Chief Minister briefed the gathering about his recent visit to New Delhi where he had approached Prime Minister Narendra Modi, Home Minister Rajnath Sing and Minister of State for Home Affairs Kiren Rijiju. He had asked them for deputing a central team to Arunachal to ascertain the damage in flood affected areas, to which the central ministers had readily agreed.
On relief, the CM had asked the Home Ministry for an aerial survey and accordingly on Saturday last, Rijiju had made a joint survey with high level team from the state accompanied by Chief Minister.
Khandu earlier visited a relief camp in New Silatoo area and promised that there will be no shortage of ration, water supply and medical facilities in the camps.
In the aftermath of the flood, the local administration had setup 28 relief camps with total inmates of 6000. As flood receded, the relief camps have come down to 4 with 308 inmates as of now.
"I have instructed the administration and the department that there should be no shortage of any facilities in the relief camps," Chief Minister Khandu told while addressing the flood victims.
He instructed the medical team to stay alert to prevent any outbreak of diseases and assured that if need arises, more manpower will be sent from Itanagar for medical assistance.
To provide alternate land for settlement for the relief camp inmates, Chief Minister assured to provide one and asked the local administration to immediately identify a safer place for rehabilitation.
Also for the damages caused by the floods that had resulted in homes and businesses flooded, livestock lost, crops destroyed, Khandu promised that whatever the damage estimated will be fully compensated as per the relief norms.
"I have come here to share you sorrow as Chief Minister. Don't worry the government is with you, the administration is with you," he assured.
Responding to various memorandums submitted by public, Khandu advised the people to shun negative mindset during times of difficulties. "People are in grief over their loss. If we fill the atmosphere with negativity, it will make them sadder. What we need is problem solving attitude. Give them hope," he urged.