Itanagar
CM Khandu requests SBI to open its Branches in 44 unbanked blocks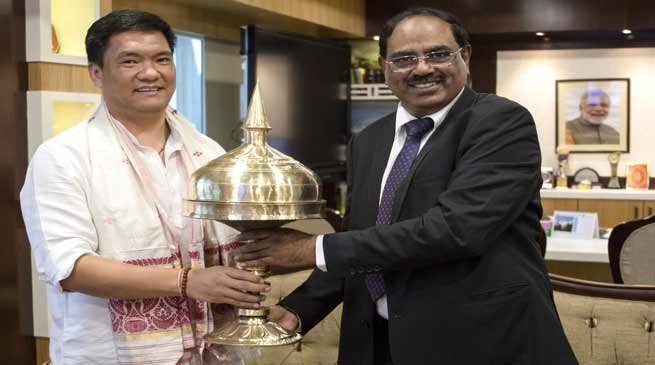 Itanagar
Chief General Manager, North East Circle, State Bank of India (SBI), PVSLN Murty called on Chief Minister Pema Khandu and discussed on various activities of the bank in Arunachal Pradesh here today.
In its bid to reach the unreached and avail banking facilities to the remotest part of the state, Murty informed SBI is rigorously promoting establishment of Customer Support Points (CSPs) through private parties/individuals.
He explained that people who are not in position to reach bank branches can avail all such services in the CSPs except availing loans and updating passbooks at the moment. So far SBI has facilitated opening of 150 CSPs in the state.
Murty, however, pointed that due to scarce population most of these newly opened CSPs are not making profits, except for few, which is disheartening the entrepreneurs who have taken up the responsibility to run these CSPs.
He requested the state government to help out such CSPs for the initial period of establishment.
The Chief Minister acknowledged the suggestion and expressed gratitude to SBI for its keen interest in taking banking facilities to remote corners of the state.
"SBI being the largest bank of the country has responsibilities in facilitating implementation of government schemes, especially for the poor, successfully. Under the DBT regime successful implementation of pro-poor schemes of the Center and the State won't be possible without active participation of SBI," he said.
Referring to 44 unbanked blocks in the state, the Chief Minister requested SBI to open its branches or CSPs and assured support from local administration. He said that district administrations would be asked to provide logistical support to SBI in its outreach activities.
On request of the SBI, Khandu said district administrations will confirm internet connectivity in unbanked blocks and submit a list to the SBI along with names of prospective entrepreneurs who can run CSPs.
Murty assured SBI through its regional office at Itanagar would sit with the government authorities and chalk out modalities to seamlessly implement schemes like Bunkar Yojana, Swawlamban Yojana, etc, that calls for subsidized loan disbursement to beneficiaries.