Itanagar
CM Khandu inaugurates Forest Rest House at Itanagar Biological Park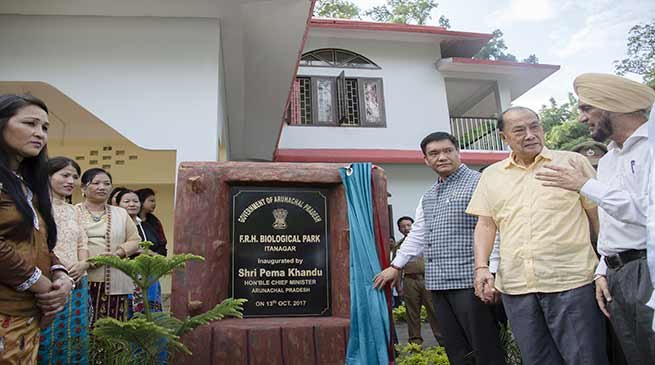 Itanagar
Chief Minister Pema Khandu today inaugurated the Forest Rest House at Itanagar Biological Park in presence of Forest Parliamentary Secretary CT Mein, PCCF Omkar Singh and other officials.
The Chief Minister in his address to the forest officials urged them to adopt best practices from other states where forest rest houses managed by the forest department have become popular tourist draws.
Citing example of Himachal Pradesh, the Chief Minister said the state has best tourist-friendly set up and through its forest department it has been able to market its natural resources to draw more tourists.
He urged the forest officials to bring in innovations and to incorporate local architectural designs using bamboo in construction of forest guest houses to showcase the local culture and attract more tourists.
"The tourists especially the foreigners don't come here to see cements and bricks but they are more interested in things that has touch of the nature and local traditions," said the Chief Minister.
He urged the department to hire experts in developing its assets, such as, parks, zoos, guest houses etc instead of engaging their own, which might be marred by limited expertise.
Appreciating the efforts of local community in preserving the forest resources around the Itanagar Biological Park, the Chief Minister expressed happiness that today people are aware regarding preservation of wildlife.
He acknowledged the contributions of community based organisations under whose efforts hunting has been banned in many tribal communities in Arunachal.
"The earth does not only belongs to us but it equally belongs to other living species as well and we must preserve our mother nature for all," said the Chief Minister.
Raising concern over human interventions negatively impacting the natural landscape, he said the most of the natural disasters in the state are man-made and urged the departments to adopt construction practises that are more nature-friendly. He said due to rapid modernization, tribal people today are losing touch with their nature. The Chief Minister therefore called for more efforts towards generating awareness towards nature conservation.
The Chief Minister during the occasion gave away prizes to winners of essay and drawing completion organised by forest department for school students in celebration of 63rd Wildlife Week.
CT Mein in his speech informed of the activities the department is undertaking to develop forest assets of capital city to attract tourists and for providing better amusement facilities for its citizens.