North East
CM Khandu attends review meeting of NH Projects of Northeast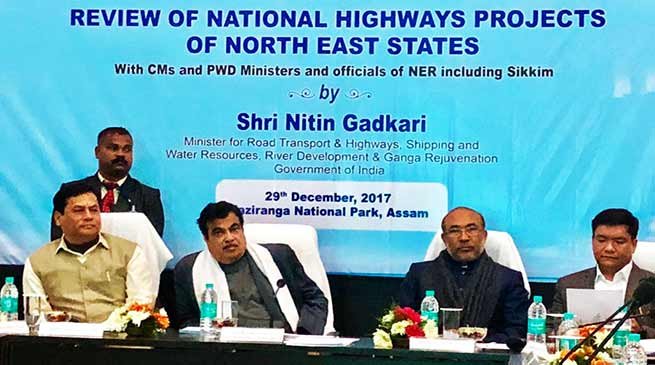 Kaziranga
Chief Minister Pema Khandu attended a high level meeting on review of National Highways Projects of Northeast States which was presided over by Union Minister for Road, Transport & Highways, Shipping and Water resources, River Development & Ganga Rejuvenation Nitin Gadkari here at Kaziranga, Assam on Friday.
The review meeting which was organized by the Ministry of Road, Transport and Highways for all the CMs and PWD ministers of the Northeast region including Sikkim was aimed to review the status of ongoing Highway projects under taken in the region.
Khandu gave a detail status of various highway road projects undertaken in the state and also apprised Gadkari about the shortcomings and challenges faced by the state. He informed that out of 2641.64 Kms of National Highway presently under various stages, PWD has been assigned to construct a length of 419.88 Km. Out of this 212.98 Km has been completed as on 30th November 2017.
The CM requested the Ministry to expedite sanctioning of Lalpul-Manmao-Changlang and Longding-Tissa-Khonsa road for which DPR has already been submitted. He however clarified that these two projects were terminated due to non-performance of the concessionaire and the DPR for the balance work has been submitted to the ministry for which sanction is awaited.
While referring to Khonsa-Hukanjuri Road (NH-315A) (35Km), Khandu submitted that the ministry has approved for construction of only 9 KMs during 2017-18 while the major chunk of road is still awaited to be awarded the required sanction. He sought Gadkari's personal intervention on the matter.
A similar request was also put-forth regarding 4-laning of Itanagar – Banderdewa road (NH-415) (31.50 Km) by the CM. He revealed that only 10.90 Km of the road length has been sanctioned as Package 'A' during 2016-17 and the work is in progress.  "DPR for balance 20.60 Km has been submitted to the Ministry as Package 'B' & 'C' during 2017-18. The 4-laning of the NH 415 from Holongi to Banderdewa connecting State Capital Itanagar with NH-52 in Assam is of vital necessity. Piece meal sanction of the project will take considerable time for linking with 4 lane NH to the state capital" Khandu emphatically said.
CM further informed that the feasibility report of Frontier Highway for 2259.00 Km based on report from all the Deputy Commissioners of the Concern Districts has been submitted to the MHA and MoRTH for further necessary action. He also said that the work for preparation of DPR for East-West Industrial Corridor of 699.50 Km has been awarded and the work is in progress. Khandu sought the Ministry's support in early funding for the project.
The Chief Minister requested Union Minister to consider new projects under
Bharat-Mala of 1355.80 Km which have already been submitted to the Ministry. "The proposed roads i.e. Indo – Bhutan Border road (175.00 Km), Indo – China Border road (999.00 Km), Indo – Myanmar border road (181.80 Km) are of strategic importance and would also boost border trades" advocated Khandu. He further pleaded to consider proposals under SARDP-NE (Phase – 'B') of 964.00 Km for which DPR is under submission.
Reiterating that during the monsoon of 2017-18, huge damages occurred which damaged a large chunk of roads infrastructure, Khandu sought assistance of Rs. 113 Cr to compensate the losses. Khandu also requested to sanction funds under CRF to take up various projects in the state.
CM asked the Ministry of Roads and Highway to immediately start the work on Potin to Pangin road for which the entire stretch has been made free from all encumbrances. He also specifically asked the Ministry to issue strict instructions to the NHIDCL to speed up the works under taken by the CPSU.
Gadkari assured to support the state in all possible way. Among others, Assam Chief Minister, Manipur CM, PWD Ministers of Northeast Region, State and central government officials attended the meeting.