North East
VIRAL
Chowna Mein shows interest in wide scale cultivation of Agar trees in Arunchal Pradesh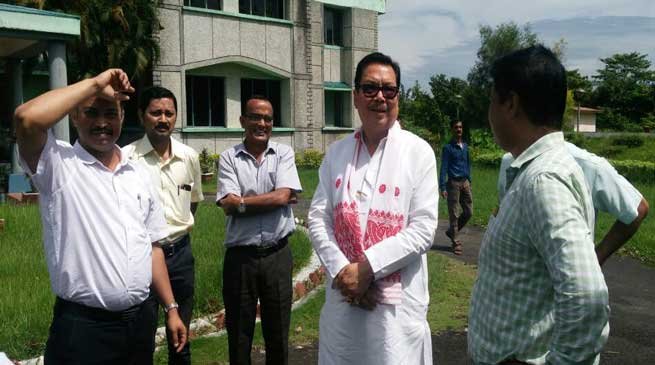 Jorhat
Deputy Chief Minister of Arunachal Pradesh, Chowna Mein showed his keen interest in wide scale cultivation and inoculation of Agar trees in Arunchal Pradesh.  He expressed his desire during his visit to Rain Forest Research Institute, Jorhat (Assam) recently.
He assured that he would bring a team of Scientists and Forest Officers from Arunachal Pradesh to RFRI, Jorhat for detailed consultation and discussion. He further instructed the agriculture and horticulture departments of the state to take help and work in coordination with the RFRI for various research and resource development works in the state.  He thanked all the members of RFRI, Jorhat for their for their warm welcome and assurance for support.
In his speech, Mein said that Arunachal Pradesh has ample scope of showcasing its natural resource though systematic research and appealed to RFRI to be a part of the developmental process of Arunachal Pradesh. He emphasized the need of research in agriculture/ horticulture/ agro forestry as this is the key to the success for North Eastern States.
Mein while sharing his experience on different research and development activities of other countries, encouraged the Researchers for their great job. He interacted with the Scientists of RFRI on different issues and sought their attention on some subjects like skill development on cultivation of wild edible mushrooms which are traditionally known to different tribes of Arunchal, management of shifting cultivation practices, need of research in wild fruits, bamboo nursery management, cultivation and treatment, utilisation of minor forest fruits, suitability of introducing Noni (Morinda citrifolia), introducing Casuarina for river erosion control, lac cultivation and its utilisation etc.