Arunachal
Chowna Mein inaugurates Green Gold Integrated Farm at Tarajuli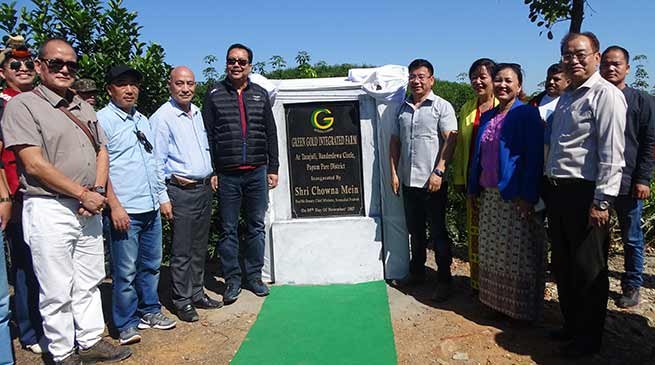 Banderdeva
All round development of agriculture and horticulture sector and empowerment of unemployed youths and the farmers in the State is the highest priority of the government said the Deputy Chief Minister Chowna Mein on Sunday while inaugurating the Green Gold Integrated Farm at Tarajuli under Banderdewa Circle, Papum Pare dist.
The farm spread over 200 hectares with pleasant greenery dotted with features of amenity and recreational landscape is operated by a local progressive farmer Likha Maj. The improved farming concepts showcased in the farm not only help maximise optimum production from limited resources but will also help empower farming communities of the state in near future.
He appreciated the efforts of Likha Maj and said that he has become a source of inspiration for the young farmers of state. He thanked Maj for the opportunity provided to him for visit to such integrated farm which had a huge learning impact and has immensely benefitted him.
Mein termed the growth of agri and horti sector in the state as a silent revolution which has propelled many farmers evolve out of it. The government considers high growth of agriculture and allied sectors as a means to accelerate the state's GDP growth and enable farmers to earn higher income, Mein added.
"Our state has the rich biodiversity in the country and also has the best agro-climatic zone suited for majority of the agricultural and horticulture crops yet the state has been slow and volatile in the performance of agriculture and allied sectors," said Mein.
He cited that many farmers in the state now have shifted from Poppy cultivation to grow large cardamom or other crops as it has yielded and doubled their income generation is indeed a good progress of agri and horti sector in the State. Farming is the main economic backbone of the state and we need to promote our young and energetic educated youths of state to take up farming for their economic sustainability.
Terming the youths as future of state he called upon them to take a cue from such progressive farmers and learn the concept of taking up integrated farming system to generate their income source.
Stressing the integration of farming activities, the DCM said that the farmers should avail the benefits of government schemes like CM Krishi Rin Yojna, CM Sablamban Yojna to double their output. He suggested the farmers to get their soil first tested and then invest in required agri and horti activities which would help provide sustainable development.
While sharing his experience on agri and horti sector, Mein said that it was during the year 1994-95 that he took up farming of Tea in an area covering 300 Ha and how he has set-up two tea factories in his district.
He appreciated the establishment of Kiwi Wine bottling plant at Ziro and said that the State government will provide the necessary support to promote such progressive farmers. He said that he would seek advice related to development of Agriculture ad Horticulture sector from various progressive farmers of state which would be incorporated in the next budget.
The Director of Green Gold Integrated Farm Likha Maj explained about the different activities taken up in his farm and highlighted the numerous challenges confronting them.
Maj said that creating the integrated farm in the state would generate employment for the youths and help solve the unemployment problem of the State. He called upon the government to adopt policies which would help the organic growers and farmers of the state for their sustainable development and growth.
He also informed that 'Green gold' has taken up several innovative schemes and is also working in developing larger project in his area. He informed that many ongoing projects like wellness resort, duckery unit, piggery unit, goatery unit, Rubber training Institute and Sub tropical Horticulture Institute would be completed soon.
He also gave detail highlights on the completed projects in the Green Gold Integrated Farm at Tarajuli  like Natural Rubber plantation, Kagzi Lemon plantation, Dairy farming, Natural fish ponds, sandalwood plant nursery, rubber plant nursery and agar plant nursery.
Others who were present in the function were Chairman Resource Mobilisation Committee Toko Anil, Director (Trade & Commerce) Tokong Pertin, Director (SJETA) Yumlam Kaha, WRD Chief Engineer Likar Angu, Town Planner Likha Suraj, Rural Bank Officers, Senior officer D Dutta,  HPD MD Toko Anuj, APEX Bank MD T. Thogdok and other progressive farmers of the area.