Arunachal
Chowna Mein inaugurated Seismic Isolated Kalyanamitra Guest House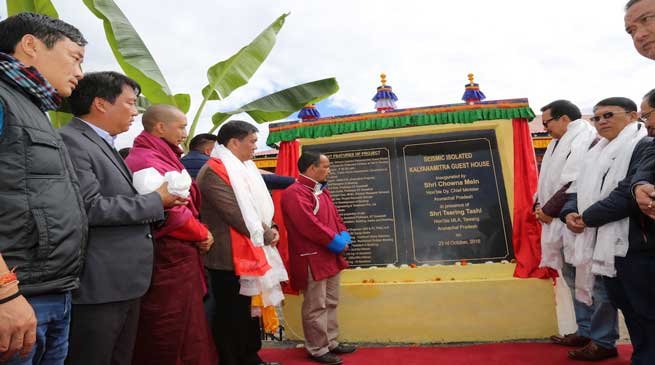 Tawang
Deputy Chief Minister Chowna Mein inaugurated Seismic Isolated Kalyanamitra Guest House for Mahabodhi House of Orphan and Old age at Teli in Tawang today.
In his inaugural speech, Deputy Chief Minister lauded  the Mohabodhi Society for their contributions towards the preservation of Buddhist Culture and teachings.  He urged the society to work beyond the religious activities and to extend their support in development of social sectors like health and education in the state. He requested them not only to confine their activities among the Bhuddist Society but also in other societies across the state in these sectors.
He expressed happiness to learn that the Arunachal University of Studies at Namsai, a private college is introducing Department of Buddhist Studies with Bachelor Degrees in the initial stage, which is encouraging for preservation & promotion of indigenous culture & literature.
He further said that the new govt under the leadership of  the Chief Minister Pema Khandu as Team Arunachal is working towards over all development of the state emphasizing on innovations in developmental fronts and employment generations for the youths.
He said that the Seismic Isolated Kalyanamitra Guest House for Mahabodhi House of Orphan and Old age is one such innovative works where in latest technology of seismic resistant concept of Confined Masonry was adopted and Fibre Reinforced Elastomeric Isolator has been installed in the building to reduce seismic force.
He gladly informed that it is the first of it's kind in Arunachal which would be adopted in lifeline structures like multistoried hospitals, disaster management buildings and hostel buildings in future.
He lauded the Chief Engineer(Design & Planning) PWD, Atop Lego and Professor S K Deb, Civil Engineering Wing Dept of IIT Guwahati for their guidance and innovations.
He lauded the villagers of Tawang District for their preservation of  age old culture and traditions and also the introduction of wearing of traditional dress in school one day in a week.
He appealed the people to maintain peace and tranquility saying that peace is prerequisite for development.