Festival
Chowna Mein attends Kathina Civara Dana Ceremony at Kovin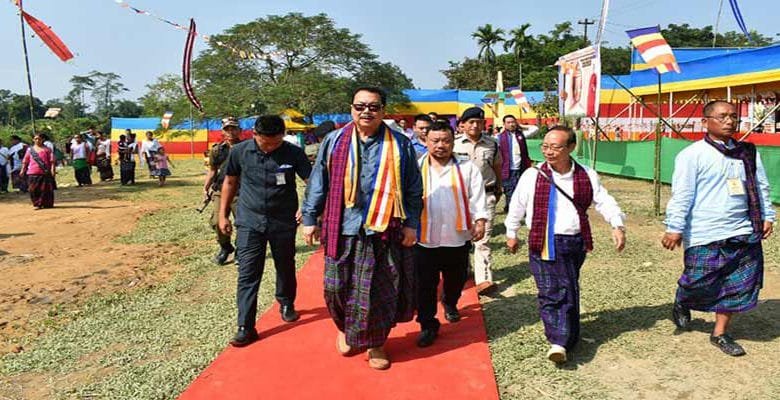 Jairampur
The Deputy Chief Minister Chowna Mein attended the 10th Kathina Civara Dana cum Acharya Kanto Poi which also marked the Golden Jubilee of the Dhamma Rajika Buddha Vihara of Kovin village near Jairampur.
 Mein called for reforming Buddhist monasteries into centres of learning and not be confined only in religious teachings by expanding its approach on education. He was of the view that monks should also seek employment so that they are financially empowered for rendering their services.
 He said that with the advent of modernisation it has become pertinent to protect and preserve our culture and heritage while consciously imbibing the new things. He also said that Arunachal Pradesh is a multi-cultural state and thus every section of society must strive to maintain harmony by respecting each others culture.
Responding to a public memorandum submitted on the occasion for retention wall at the Namchik river and Multi-purpose Cultural Hall at Kovin village and Community Hall at Tikhak Taipe, the Deputy Chief Minister instantly assured to sanction and asked for the proposals to be put up through the concerned departments. He also released a devotional audio music album.
 Ven. Aggadhamma Mahathero, abot of Pariyatti Sasana Buddha Vihara, Namsai also spoke on the occasion.
Wayung Khimhun, DC Changlang and  S.S.Choudhury, ADC Jairampur also attended besides monks and devotees from various other Buddhist inhabited places.