Arunachal
Chowna Mein attend Silver Jubilee Celebration of Nungkon Baptist Church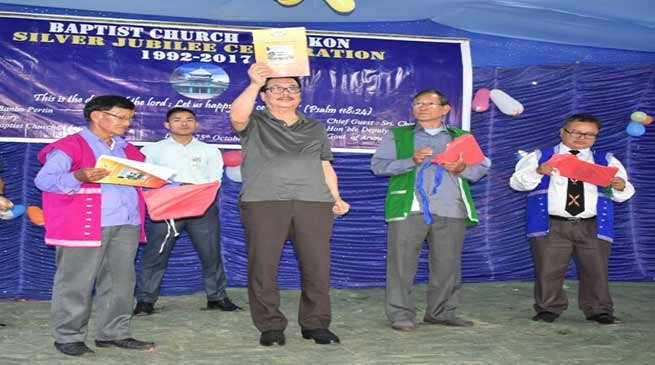 Namsai
Deputy Chief Minister Chowna Mein today attended the Silver Jubilee Celebration of Nungkon Baptist Church under Lekang circle and also his constituency. The church was established in 1992 and is affiliated to the Dibang Lohit Baptist Churches Association(DLBCA).
The Deputy Chief Minister while addressing the gathering opined that he was well aware of the developmental history of Nungkon Baptist Church since its early when he would attend programmes of the church upon invitation from the pioneers who built it.
He said that he has a long association with the Christian community having been a Bosconian as a student and added that he still keeps in touch with the fathers who were his teachers. Now, he said the believers of the church have matured into full fledged devotees. He was of the view that society's legacy must be carried forward for posterity and what better than the young generation to shoulder the responsibility.
Mein while stating that the government was a secular one also took the opportunity to clear the air around the apprehensions about the proposed Department of Indigenous Faith and Cultural Affairs while informing that the it has been rectified by omitting the word 'faith'.
He said the department will take care for the welfare and development of all indigenous cultures irrespective of faith and beliefs. He asked not to be threatened by the establishment of the department and instead create an environment of harmonious coexistence.
Mein also said the area has no discrimination with regards to faith which is good for the society. He invited for proposals for any kind of positive development which will be supported by him and that the government will also help.
The Deputy Chief Minister also released a souvenir on the occasion which was brought out to commemorate the silver jubilee.