North East
Chowna Mein attend 'Sabka Sath Sabka Vikas' Sammelan at Nagaland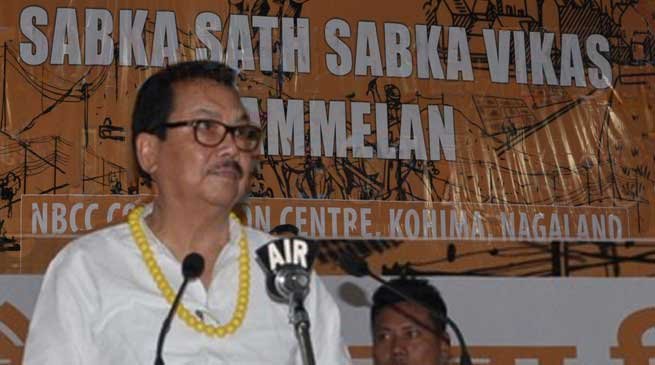 Kohima  
Deputy Chief Minister of Arunachal Pradesh, Chowna Mein attended the 'Sabka Sath Sabka Vikas' Sammelan at Nagaland as Chief Guest today.
Addressing the gathering at Convention Hall of Nagaland Baptist Church Council at Kohima, Mein said that North East is rapidly developing in all sectors under Prime Minister, Narendra Modi led BJP Govt in the centre. He said that the Prime Minister has given special attention to the development of North eastern states which is quite visible from his statement that "India will only develop when North eastern States are developed".
He said that problem of north eastern states are almost similar that is the connectivity and it can be solved only with the support of NDA Govt in the centre. Under the dynamic leadership of PM Narendra Modi, Central govt is emphasizing on connectivity of northeast region in all five fronts of Road ways, railways, air ways, river ways and internet ways.  He informed that under BJP Govt, construction of major bridges, highways and border connectivity such as Four Lane Highways and Trans-Arunachal Highways has received major fillip and the construction works have gained momentum. He cited the example of the completion of longest Dholla-Sadiya Bridge over Lohit (Tributary of Brahmaputra river) in Tinsukia District of Assam which was recently inaugurated by the Prime Minister Narendra Modi. Many Advanced Landing Grounds and Rail networks are also coming up in Arunachal and other parts of the north east region which we never imagine before, he said.
Highlighting various people friendly schemes, initiatives and bold & landmark decisions taken by the Prime Minister such as Demonetization, Passing of GST Bill on both the houses of Parliament to bring in the greatest tax reform in the country and doing away with the Red Beacons to stop the VIP culture, Mein said that the Modi led govt is also committed for welfare and upliftment of the poor, downtrodden, women, disabled, backward and tribal communities of the country.
He called upon the people of Nagaland and party office bearers to spread the achievements and initiatives of the NDA Govt so that it reaches to every nook and corner of the state. Stating that the NDA govt is very much concern and committed for the development of the north eastern states, he also appealed all to strengthen the hands of the Prime Minister Narendra Modi and expressed hope that the BJP will form the next Govt in Nagaland too.
Nagaland State BJP President, Visasolieu Lhoungu also spoke on the occasion and highlighted about various schemes, initiatives and 3 years achievement of the BJP led NDA Govt in the centre.
Seyiekhrielie Nagi, General Secretary, BJP, Kohima District and M Zhimo, Airport Director, Dimapur Airport also spoke on the occasion.
Video on 3 years of Govt achievement were also shown and local cultural programme were also presented in the programme.
Among others, D K Kamra, Regional Executive Director, Airports Authority of India,  Guwahati, Senior Govt Officers, BJP Office bearers and public attended the Sammelan.