Arunachal
Chief Minister Kalikho Pul met with Modi, Rajnath and Prabhu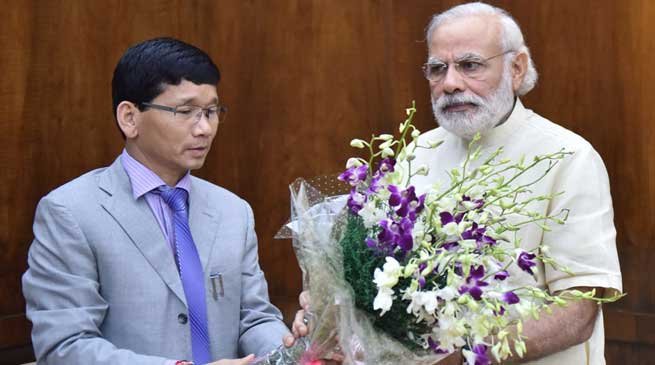 New Delhi
Chief Minister Kalikho Pul today met Prime Minister Narendra Modi to follow up on the report of the central team that had visited Arunachal recently at the behest of the PMO. The PM assured his continued support and said that the government of India would stand by the people of Arunachal in this difficult time.
The CM also met with union minister of Home Rajnath Singh to discuss the law and order situation in the state and also to seek support of the home minister in deployment of forces as well as initiating welfare measures for the police personnel. Both the Prime Minister and Home Minister have requested for detailed proposals on the issues raised, to which the CM assured of early submission.
The CM also met with Union Minister of Railways Suresh Prabhu to discuss on enhancing rail connectivity in the state.  The chief minister in his submission urged for rail connectivity to foot-hill towns of Arunachal such as Seijosa, Likabali, Kimin, Parsuram Kund,  Roing, Miao, Nampong, Deomali, Kanubari.
He also asked for extension of rail link from Murkongselek to Pasighat Township, which is one of the important towns of Arunachal Pradesh.
In addition, the chief minister asked for new Connectivity to Parshuram Kund as the place being famous for Hindu pilgrimage thousands of people visits this place every year.
The CM also urged for completion of Bogibeel bridge within the stipulated time period as the rail cum road bridge would serve as a life line for connecting east of Arunachal Pradesh to the western part.
He also requested for a regular goods service in between Bhalukpong, Tezpur and Guwahati, which would help the transportation of goods both for civilian and armed forces deployed in the western part of the Arunachal Pradesh.
Further, the CM appealed for improvement in the quality of existing coaches on intercity trains between Guwahati and Naharlagun and for a day intercity train with AC Chair car.