Arunachal
Chief Minister Kalikho Pul meets UPSC qualifier Duyu Kampu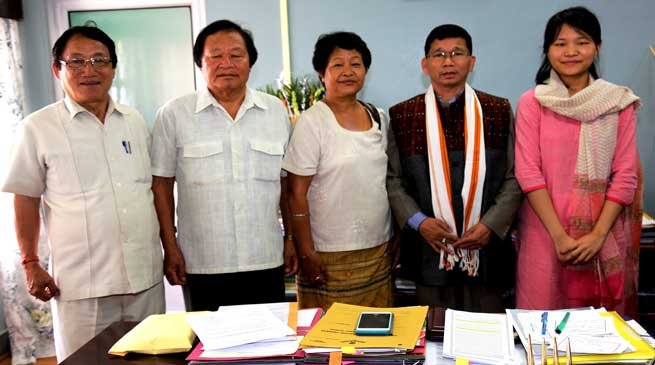 Itanagar
Chief Minister Kalikho Pul today met Duyu Kampu, and lauded her for clearing the UPSCE examination this year. Her mother Duyu Yakang and father Duyu Kajang accompanied Ms Kampu including public leader Kamen Ringu.
The Chief Minister said the whole state is very proud of her achievement and said that IAS/IPS officers have high reputation in society and advised her to live by it.
He said the position you are going to hold is not meant to serve your own purpose, but to use that position for the cause of people.
"Not all are able to occupy your position. So use your position wisely in service of the people since you are among the few selected from rest of the population," said the CM.
Advising Ms Kampu to have open mind and willingness to learn, the Chief Minister urged not to judge anyone by their status or position. "A person of any strata can offer you learning experience, given that you are willing to learn. Knowledge alone cannot be a good guide but a good experience can," said the Chief Minister.
Further advising her that service to humanity is above all, the CM said for good cause, one could also go out of way.
"We all are here to serve our people and accordingly we make rules for them. But if rules are proving to be a barrier, it could be overlooked sometimes," said the Chief Minister.
Urging her to serve in true sense of work spirit, the CM said if there is willingness to serve, one would not look for comforts of posting place. "It is only when you serve in most difficult areas and become attached to it; then you will find peace in your work."
The Chief Minister cited example of one IAS officer Prashant Lokhande who became so attached with Arunachal that he decided to name her daughter as "Mishmi", after a name of tribe from the state.
Further not ruling out the possibilities of life threatening experiences during the service, the Chief Minister advised Ms Kampu not to submit to any threats that will only try to weaken you.
Quoting from his life's experience, the Chief Minister said in his life he had received several life threatening calls. "What more can they take away from me? If I have to die while on duty, it will be an honourable death rather than die of old age," said the CM.
He said he could win over his adversaries only because they could not point out any wrong misdeeds out of me. "Never will you hear any corruption against me," asserted the Chief Minister and added that "this is what gives me the courage".
Sharing his political experiences, the Chief Minister said "Politics is misunderstood always; rather it's the best platform to serve people. The difference can be made if we strive to set things right."
He urged to work together to bring better working system for Arunachal where everyone can have the liberty to grow as per their talent and hardwork.
Speaking on his objective of conducting "Janta Darbar", the Chief Minister said the idea is to give platform to all people irrespective of their political affiliations or status to be heard.
"I don't want to discriminate people on the basis of their political stands. Our government is for the people and in true sense we want to serve the people," said the Chief Minister.