Arunachal
Changlang-Pangsau Pass Winter Festival 2017 began at Nampong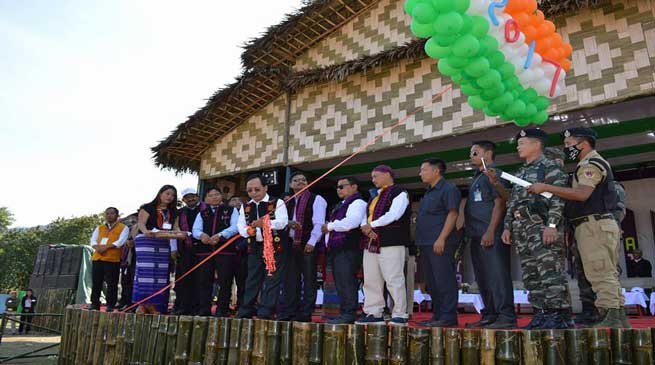 Changlang
The historic Pangsau Pass Winter Festival 2017 began here at Nampong festival ground on Friday. Minister for WRD, Food & Civil Supplies and Geology & Mining, Govt of A.P,  Kamlung Mossang who declared the mega event open said that the main objective of organising festivals in the state is to promote tourism industry. Saying that the scope in tourism in the area is immense, he appealed the local people to ensure peaceful and conducive environment for the tourists to make the area attractive tourist spot. He said that promotion of tourism will propel economic growth and help over all development of the community.
Stating that the district with its natural diversity has ample scope to be a pristine place for ecotourism the Minister appealed the youth to take up travel and tourism as a career and stay away from the social evils like drugs and opium addiction. He appealed parents to give due attention to their vulnerable children to stop them indulging in these social menace.
Earlier, the host MLA, Nampong Laisam Simai in his key note address informed that the main purpose of organising the Pansau Pass Winter Festival was to preserve, protect and revive the age old rich culture and tradition of the tribes of Changlang district.  He further said that the promotion of tourism and showcasing local's way of living, food, drinks, culture, tradition, etc to the outside world was also the part of organising the festival.  Stating that hospitality is the  main component for successful development of tourism industry Simai appealed the local people to always show good hospitality to the visiting tourists.
The visiting dignitaries also participated in the signature campaign for "Clean Arunachal, Green Arunachal" organised as a part of festival celebration.
Later Mossang inaugurated the stalls put in place by various departments, NGOs and cooperative societies.
Traditional huts of various sub-tribes in the district & Burmese hut, local cuisine in food festival section, cultural items from various corners of India as well as from neighbouring country Burma, sightseeing, open air restaurants, floating restaurants, etc were the other main attraction of the festival.
More than five hundred vehicles also visited lake of no return via Pangsau Pass on the first day of the festival.