North East
Cattle Smugglers Adopting New Modus Operandi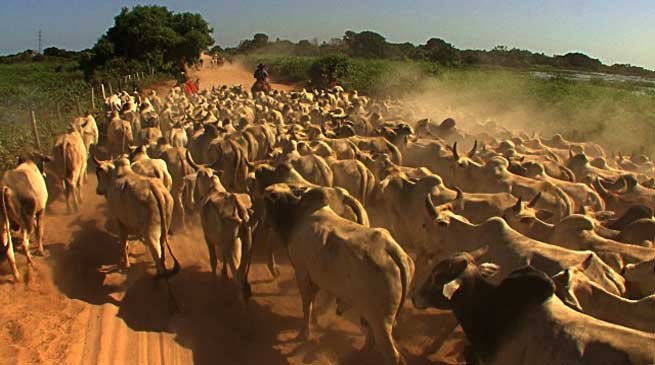 Shillong
The BSF troops deployed at Majhesora, South West Khasi Hills district of Meghalaya, apprehended one Bangladeshi cattle smuggler with 09 cattle. The apprehended Bangladeshi who was later identified as Md Mansoor, S/o Late Md Sajan, is resident of Vill- Majhesora, Distt- Sunamganj, Bangladesh, was exfiltrating from Indian territory to Bangladesh. He confessed his involvement in cattle smuggling and had entered India for the same purpose.
Desperate cattle smugglers are adopting a new method to smuggle cattle in the International border. In this new modus operandi, Bangladesh cattle smugglers are bringing 5 to 6 numbers of cattle for grazing near the International Border, in the same time Indian smugglers, in disguise, are also taking equal or more numbers of cattle in the same place. In the process of grazing, these cattle are being smuggled into Bangladesh without giving a hint. But, in this instance smugglers failed to put a curtain before alert BSF troops and landed himself into the net of the troops. The BSF is now looking for the Indian associates who are involved in this illegal act.
Similarly, on the same night the BSF seized 46 Nos Cattle in the area of Beldova and Kalaichar, (South West Garo Hills districts) Mahadev, (South Garo Hills district,) Hawitilla, (West Jaintia Hills) and Nayabazar, (East Khasi Hills) district of Meghalaya, while being smuggled into Bangladesh from India.  Prices of cattle have gone up in recent months after the BSF checked the illegal supply channels to Bangladesh. The BSF has continuously been in its drive against the Cattle smugglers.
The above mentioned apprehended persons and seized items handed over to concern authorities for further legal action.