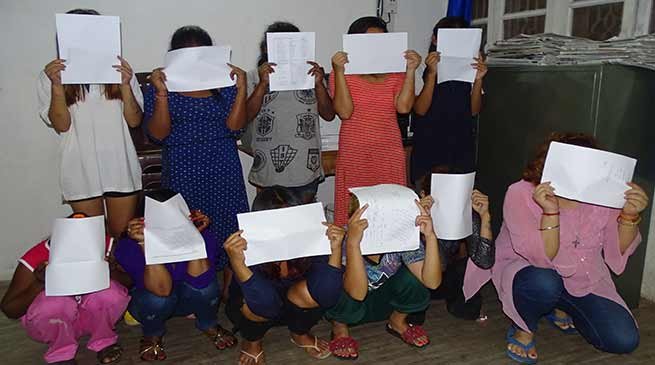 Itanagar
By Manoj Singh 
In a bid to curve the crime the Capital Police raided several hotels in capital city Itanagar and apprehended 15 girls involved in sex related activities. The raid carried out till late night under the direction of SP City Dr. A Koan and supervision of  SDPO Techi Hanyir, SI P. Merip.
In view of rise of missing reports of youths, sex and flesh business and human trafficking in and around the capital complex the Itanagar police have been trying its level best to curve such menace and it is the result of their hard labour and sincere efforts have yielded to arrest large numbers of girls/women in different hotels of Itanagar township today.
SDPO Itanagar Hanyir Techi said that most of them are teenagers, underage and married women having children. Interrogations were done and come to know that  they belongs from poor and broken family. Most of their fathers indulges in womanising and drinkers and never care for their basic  amenities  and even their day today needs. Some of them are divorces while some are involve only for enjoyment and to earn money.
She said that some of them are from Arunachal, some are from Lakhimpur, Tezpur and Guwahati of Assam while few are from Manipur and few are of Assam who are understood to be migrants from Bangladesh.
She said that there are acute need of proper counselling as seen after interrogation that they use the partner with businessmen, public leaders, contractors so there may be a proper rehabilitation centre and need parents guidance and may be due to unemployment.
She also said case is being registered  and such raids shall continue after gather specific information and reports from sources. She also appeal all citizens to cooperate the capital police in making crime free and a safe, secure place to live with peace and happily. Hanyir said.