North East
BSF Seizes Huge numbers Cattle in India-Bangladesh Border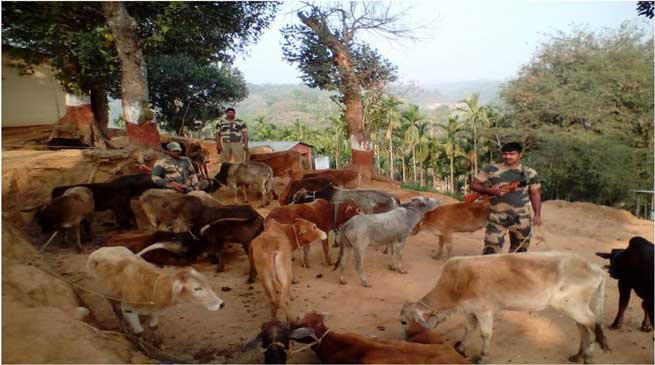 Shillong 
The BSF troops deployed at Gopinathkilla near India- Bangladesh Borer  (South West Garo Hills) seized 41 nos cattle while being smuggled to Bangladesh since last two days. On specific info BSF troops lodged search operation in the thickly vegetated area near the zero line and managed to seize the cattle, however the smugglers managed to flee taking advantage of darkness and thick vegetation.
The spurt in cattle smuggling in Meghalaya seems to be due to the stringent action taken by Assam Govt. against the menace of cattle smuggling which has forced the smugglers to divert their area of activities in Meghalaya.
In the disguise of local consumption, cattle are being transported towards bordering area of Meghalaya. Specially South West Garo Hills area has become the hub of these cattle smugglers where the  many fold increase in number of cattle has been found during the cattle Haats. Garobadha, Ampati, Purakhasia along with many other local markets and Haats have become places for cattle sale where the smugglers co-ordinate their illegal acts.
The existence of these cattle Haats near the border belt has also worsened the situation. Though BSF has been manning the border round the clock, still smugglers are taking their chances to exploit the gaps due to culverts, humepipes and unfenced area due to public protest rivers, nullahs etc.
The increase in the attempts of cattle smuggling is evident from the incidents which were noticed during last two years. During the year 2015, BSF troops seized 2,064 cattle in 261 incidents of cattle smuggling and apprehended 20 Indian cattle smugglers. This number increased in 2016 when 3,543 cattle were seized and 33 smugglers (including 04 Bangladeshi nationals) were apprehended in 477 attempts of smuggling at the Border. A drastic increase has been noticed in 2017, which has surpassed all the previous records. During last two and half months BSF troops seized 2,151 cattle in 240 incidents, apprehending 09 smugglers including 01 Bangladeshi national.
The limitation of agencies involved to check cattle smuggling has been always tried to be exploited by these smugglers. The cattle being a non-notified item provides them chances to get bail even if apprehended as it's bailable upto 20 lacs of the seized consignment. Transportation for the local consumption enables these perpetrators to bring cattle near zero line at their will. Huge gaps due to non-construction of Indo Bangladesh border fence also help them in their ill designs.
The disposal of seized cattle near the border belt again gives opportunity to these smugglers to re-gain the cattle and attempt smuggling them to Bangladesh. Though, use of special equipments has also helped in making considerable seizure by BSF troops. BSF apprehended that the smuggling trend may further increase with onset of monsoon/rainy reason, as adverse weather also helps in such activities said Sh P K Dubey, Inspector General, BSF Frontier Meghalaya