North East
BSF Seizes 276 cattle from Indo-Bangla border in Meghalaya in 5 days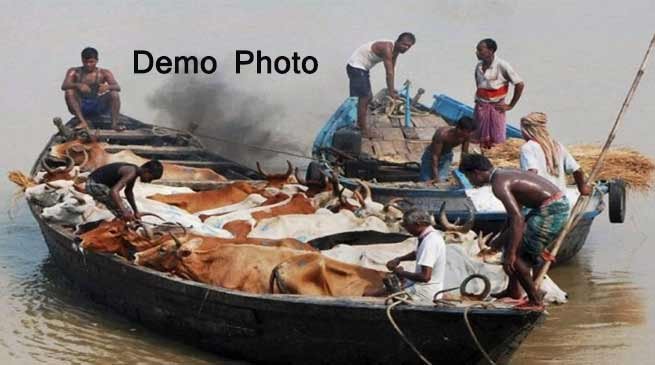 Shillong
The BSF has seized 276 Nos cattle, and contraband items worth more than Rs. 49 Lacs, while being smuggled out from India to Bangladesh on the International Border along Meghalaya since last five days from the areas of Tuka, Nayabazar, Lyngkhat,  Distt East Khasi Hills, Gopinathkilla Distt. South West Garo Hills, Ganganagar Distt. West Khasi Hills and Dumkaphal Distt. South Garo Hills of Meghalaya.
The Border Security Force, now a days heavily engaged in stopping smuggling of bovine animals besides guarding the frontier. The attempts of cattle smuggling getting a routine in some parts of Meghalaya besides frequent seizures by troops of Border Security Force.
The troops of Border Security Force showing alertness and extra vigil on International Border, foiled the attempt of notorious smugglers and seized 78 Nos cattle at zero line. Acting on sneaky information obtained from reliable sources that some cattle smugglers proceeding with huge number of cattle for smuggling on international border. The BSF troops deployed at Nayabazar, East Khasi Hills district of Meghalaya launched Spl. operation and prevented 20 nos cattle being smuggled to Bangladesh taking advantage of darkness through unfenced gaps.
Similarly the troops deployed at Nongjuri, Tuka, Umsiem and Lynkhat, East Khasi Hills, and Lamasakhi, East Jaintia Hills district of Meghalaya seized 58 Nos cattle on International Border while being smuggled to Bangladesh.
The BSF and BGB have also identified many of cattle corridors through various meetings. However, new routes are being discovered by the smugglers. The BSF, over the last few months, has plugged almost all the vulnerable patches of the border by increasing troop's strength and employing technical support. The smugglers either manage to cut wires of Indo-Bangla Border Fence (IBBF) or use unfenced areas to smuggle cattle. In Meghalaya many parts of international border are still unfenced.
All the seized items handed over to concerned department for further legal action.