North East
BSF Seizes 144 Cattle on Indo-Bangladesh Border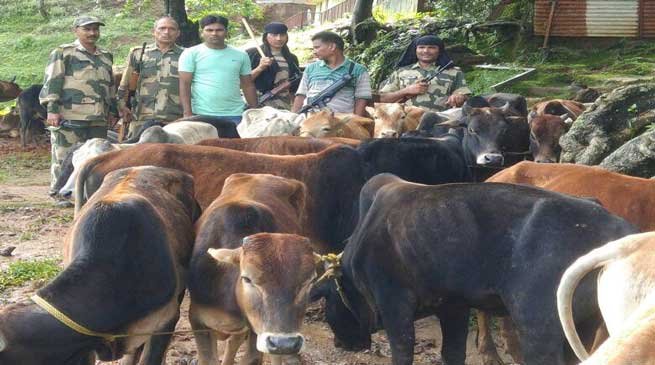 Shillong
The Border Security Force ( BSF ) once again showing alertness and extra vigil on Indo-Bangladesh Border, foiled the attempt of notorious smugglers and seized 144 cattle on International Border in more than 6 incidents during last night.
The BSF troops deployed at Ganganagar in West Khasi Hills Dist of Meghalaya noticed 3-4 miscreants alongwith cattle heads moving towards Bangladesh side near the international border. They immediately rushed towards the spot, cordoned the area and recovered 50 cattle worth of more than Rs. 7 lac after thorough search. These cattle were being smuggled to Bangladesh taking advantage of unfenced area of Ganganagar, the boundering area of South Garo Hills Distt and South West Khasi Hills Distts of Mehalaya.
 Similarly in another incident, the BSF troops deployed at Purakhasia, South West Khasi Hills district of Meghalaya launched Spl. operation and seized 45 cattle worth more than Rs. 5 lac. while being smuggled to Bangladesh taking advantage of darkness through unfenced gaps.
K. Nayal, Deputy Inspector General, Meghalaya Ftr has instructed Intelligence branch of Meghalaya Ftr about the increase in cattle smuggling in coming days due to upcoming Eid festival in Bangladesh.