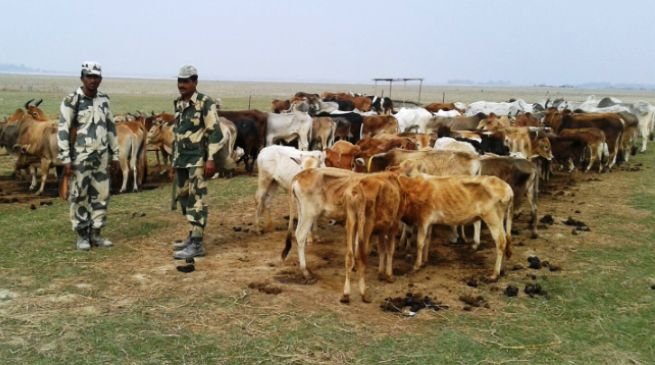 Dhubri
Troops of Border Security Force deployed in Dhubri District under Guwahati Frontier have seized large numbers of cattle heads meant for smuggling to Bangladesh.
Official sources in the BSF informed that on the intervening night of 7th-8th Feb 2016, 323 cattle heads were seized from different locations in Dhubri. A total of 1456  cattle heads were seized during the past week.
BSF troops are always alert to issue of trans-border crimes and illegal infiltration and are making all out efforts to prevent commission of illegal crimes.
While cattle smuggling to Bangladesh has been on the rise particularly through Dhubri district in western Assam, smugglers have been also using routes through Meghalaya to send out large number of cattle to the neighbouring countries.
Few months back  a Commission appointed by the Supreme Court had quoted BSF figures and said that cattle worth Rs 13.80 crores were smuggled out through Dhubri sector in Assam alone between January and September last  year.
This was a phenomenal rise in comparison to cattle worth Rs 1.89 crore smuggled out through the same sector in the whole of 2014.