North East
BSF Raising Day- Barakhana held at Masimpur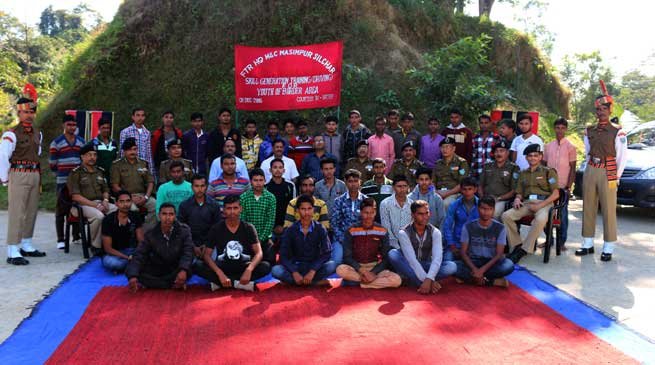 Silchar
Border Security Force (BSF) was raised on 1st December 1965. In the series to celebrate this auspicious occasion of BSF Raising Day, a 'Barakhana' programme was organized by Headquarter BSF Frontier Mizoram & Cachar, Masimpur in association with BSF Sector HQ Silchar & 53 Bn BSF on 30 Nov 2016 at BSF Campus Masimpur with great pomp and show.  N S Jamwal, Inspector General, BSF Frontier HQ Mizoram & Cachar graced the function by his benign presence as the Chief Guest of the function. BSF Officers & jawans with their families and children added to the cheerful function of 'Barakhana' with their keen interest and contribution to the grand success of the function.
To make the 'Barakhana' more flamboyant, several colourful cultural programmes were also organized by the BSF jawans as well as tiny children of BSF  Ankur School. The audiences were mesmerized with the fancy show and melodious songs.
In his closing address of the function,  N S Jamwal, Inspector General thanked all the BSF officials & Jawans for organizing the grand function and conveyed his best wishes to BSF officials and their families. He also appreciated the work done by the BSF personnel in Mizoram & Cachar Frontier on the Indo – Bangladesh border & in Counter Insurgency Role in Manipur & Nagaland. He also conveyed special congratulation to those BSF jawans who are performing their duties round the clock on the farthest frontier of the international border and effectively dominating the border of the nation. He also thanked the Hockey Team, Yoga Team and the Swimming Team of the Frontier for winning the Championship trophies in the BSF Inter Frontier Competition for the current year.
As a part of the celebration of the "BSF Raising Day", on 1st Dec 2016,  Harminder Pal, Deputy Inspector General / Principal staff officer inaugurated "Skill Generation Training to youths of border area." In his inaugural speech, he stated that the Border Security Force is going to impart some skill generation training with active co-operation from National Automatic Testing and R&D Infrastructure Project (NADRiP) for the unemployed / below poverty line (BPL) youths for economic, social as well as in built human security for the youths of Border areas through various skill development projects. As a part of above project, in the first phase, 40 youths from border areas of Cachar & Karimganj districts are identified and their training on Driving skills and Vehicle maintenance would commence at NADRiP, a Government enterprise, Udharbond. Their fooding, lodging and other logistic support are free of cost and on their successful completion of the training, they will be provided with driving license from concerned district authorities and Job placement based on vacancies in concerned civil set-up.
Concern photographs are attached herewith for publication / wide media coverage through your prestigious print / electronic media, please.