North East
BSF Organises Career Guidance programme for School Children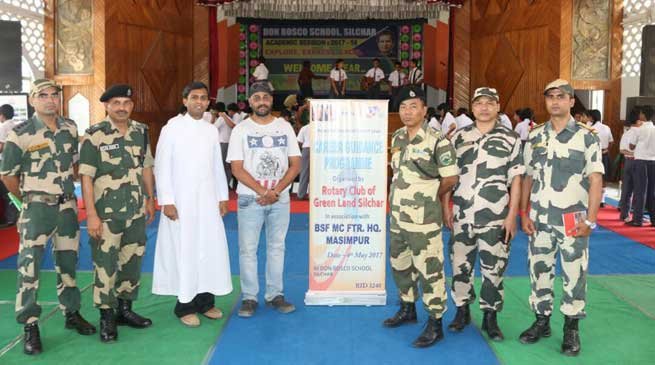 Silchar
 In an endeavour to promote public relation efforts of Border Security Force to the children of local schools in Barak Valley, Assam, as an outreach efforts towards positive perception management, Mizoram  &  Cachar Frontier BSF, Masimpur, Silchar (Assam), on Thursday, organised  a  Career Guidance programme at Don Bosco Higher Secondary  School, Silchar, jointly with Rotary Club of Greenland Silchar.
As part of the programme, a short documentary film on the BSF was screened for the students followed by presentation cum interactive session on the History, Raising, Functions, Work Spheres,  modernisation of BSF, Challenges and contributions in Nation Building & National Security, besides  display of various armaments, communication/ surveillance and equipment used by BSF.  An interactive session with students on selection procedure in BSF as a career option was also  part of the programme.
Besides, the conducting staff of BSF, Dr. Prosenjit Ghosh, President Rotary Club of Greenland, Silchar and Father Nelson, Principal of Don Bosco higher Secondary School, Silchar graced the occasion.  Also  Sandip Walia, Secretary & other members of Rotary Club of Greenland, Silchar,  Brother Reggie, teaching staff/members and students of Don Bosco Higher Secondary  School, Silchar attended the said programme.
In the chain of conduct of  above  programme, Mizoram & Cachar Frontier, BSF, Masimpur, Silchar  has organized similar workshops  at various schools in Badarpur and Karimganj towns in Barak Valley  to provide  career  guidance  to  young,  bright and enthusiastic students in order  to join  Armed Forces, such as BSF,  as a career  to  serve the Nation.