North East
BSF Organised Blood Donation Camp at Masimpur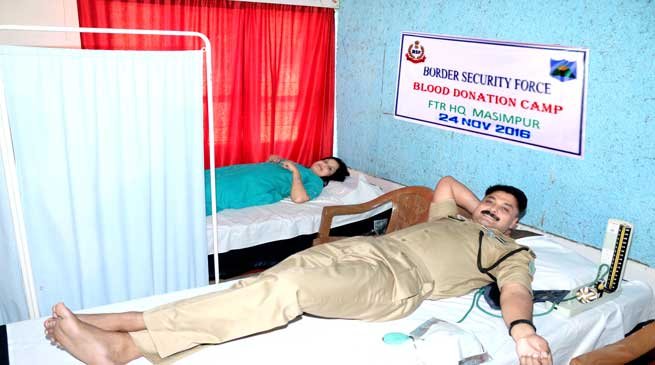 Silchar
Blood Bank of Silchar Medical College & Hospital, and  BSF Frontier Hospital, Masimpur jointly organized a blood donation camp at BSF HQrs Mizoram & Cachar Frontier, Masimpur, Silchar (Assam) on Thursday.
Harminder Pal, DIG/ Offg Inspector General inaugurated the blood donation camp. In his inaugural speech, Harminder Pal emphasized that donating blood is like giving a new life to mankind and encouraged that everybody to donate blood and save valuable lives of human beings. He said that thousands of people in the country need blood every day, either in the cases of accidents or in the event of any exigency. Officers, men and BSF families in large numbers volunteered for the blood donation.
Harminder Pal, wholeheartedly thanked the donors who generously donated the blood and felicitated them with certificates. He also thanked the Doctors and Staff of Blood Bank of Silchar Medical College & Hospital, Silchar for their laudable effort. Total 119 Units of Blood have been donated by the BSF personnel
BSF ORGANIZED BLOOD DONATION CAMP AT ALAMGANJ CAMPUS
Border Security Force personnel of 67 Bn and 174 Bn organized a Blood Donation Camp, at Amalganj, Dhubri on 24 Nov 2016 from 1000 hrs to 1330 hrs.
The programme, organized with association of Govt Hospital Dhubri and its medical staff. BSF Commanding officers, Subordinate Officers and troops attended the Blood Donation camp. Commandant 174 Bn BSF addressed the audience and BSF families and thanked all volunteers for donating blood which will help to save precious lives. He exhorted all audience to come forward voluntarily for donating blood as the requirement of blood  in India is enormous. He further expressed that security personnel have other roles to play beside providing security to nation and this blood donation drive by BSF personnel is one step towards the noble cause for our society. The programme ended with great applaud by local populous and donating of blood by  70 BSF personnel.