North East
BSF Nabbed Cattle Smuggler with Cattle and Seizes Wooden Logs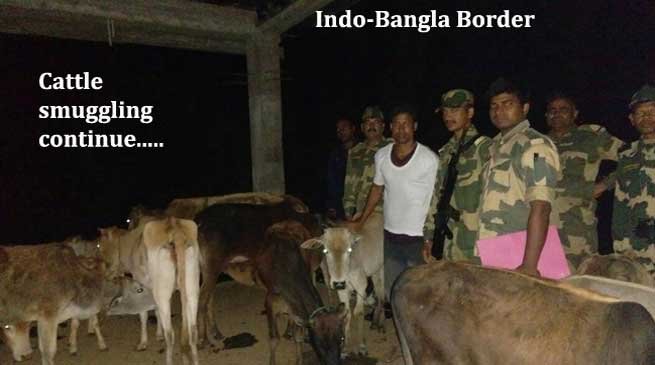 Shillong
Despite of best efforts put in by vigilant troops of the Border Security Force, the smuggling bid continue unabated. BSF Nabbed Cattle Smuggler with Cattle and Seizes Wooden Logs in different locations along Indo-Bangladesh international border. The BSF troops deployed at Balughat, South West Garo Hills district of Meghalaya observed some suspicious movement with cattle near International Border. The BSF party encircled the suspected area and squeezed the cordon. As a result one Indian cattle smuggler along with 21 nos cattle while being smuggled from India to Bangladesh. The cattle smuggler later identified as Sauful Islam resident Mankachar, Assam.
In another incident, the BSF troops deployed at Gaobari, South Garo Hills district of Meghalaya seized 12 more cattle while being smuggled to Bangladesh. The special operation party of BSF laid a trap while some smugglers along with cattle were proceeding towards Bangladesh through a thickly vegetated area. The BSF troops rushed towards the suspected area before the smugglers could succeed in their nefarious activity, alert Jawans cordoned off the area and recovered a considerable numbers of cattle.
The BSF troops deployed at Baghmara in South Garo Hills District of Meghalaya seized 63.87 Cft of wooden logs approx worth more than Rs. 4 lacs on international border while being smuggled out to Bangladesh through Simsang River. Wooden logs are often concealed under improvised bamboo rafts for smuggling of wood logs to Bangladesh. Despite regular seizure of wooden logs by BSF at zero line, smuggling of wooden logs continues unabated from hinterland. Force multiplier in the form of thermal imagers and night vision devices are being used to dominate the area, resulting in seizure of such wooden logs, cattle and other items.
 The BSF has been making sincere efforts to prevent the smuggling of cattle to Bangladesh. Apprehended person and along with seized items handed over to concerned department for further legal action.