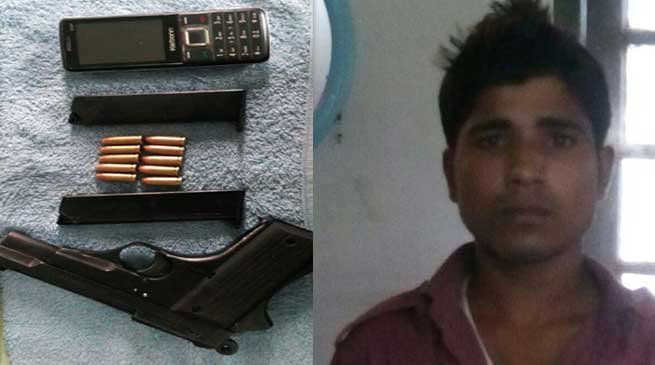 Kokrajhar
On the basis of a specific information of its Intelligence branch, Troops of Guwahati Frontier of Border Security Force BSF, deployed in Dhubri, apprehends one arms supplier along with one 7.65mm pistol and 10 rounds, in a joint operation s with PS Bogribari under Kokrajhar distt of Assam, on Friday.
The joint operation was launched on 23rd July 2016 at about 1145 hrs at Angarkati Part-1 village under PS Bogribari distt Kokrajhar, Assam. During the ops, party saw two persons coming on a bike from Bogribari on NH-31. The party signaled them to stop the bike, but they sped up and tried to flee from the spot, after which the party tried to block their path. During the skirmish, both persons fell down from the bike and again tried to escape. But the party chased and managed to apprehend one of the suspects namely, Gaji Rahman (20 years), S/o Ramjan Ali, village Jamunatari, P.O/PS Gossaigaon, Distt. Kokrajhar, Assam.
The items were also recovered from the apprehended arms supplier are One 7.65mm Pistol (Foreign made), Two Magazines, Ten rrounds live ammunition of 7.65mm, One Bajaj Pulsar Bike, bearing Regn no. AS-17-F 3784 and a mobile phone with 02 SIMs.
The above apprehended arms supplier along with the seized items was   handed over to the PS Bogribari for further investigation.
BSF troops are always alert to the issues of trans-border crimes and illegal infiltration and are making all out efforts to prevent commission such crimes.