North East
BSF Apprehended One Indian Liquor Smuggler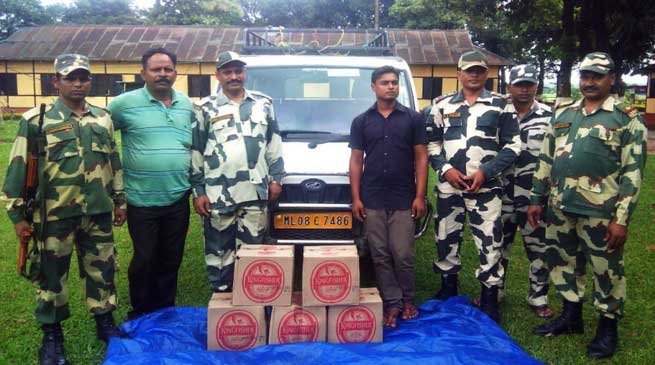 Shillong
The Border Security force once again showing it's alertness on the international border seized sizeable quantity of liquor. The BSF troops deployed at Durgapara, South West Garo Hills district, apprehended one Indian Liquor Smuggler with 60 bottles of beer.
On a tip off, the special patrolling party intercepted one Tata Magic Maxima bearing Regd No. (ML-08-C-7486) driven by Mithun (23 yrs) S/o Mazrool Khandekar, resident of Vill- Nandichar, PS- Mahendraganj, Distt- South West Garo Hills. On search party recovered 5 cases of beer. On questioning he revealed before the BSF that the consignment was loaded from a wine shop owned by one Gattu Paul from Mahenderganj and was supposed to be delivered at Kakripara market for further smuggling to Bangladesh. The liquor is banned in Bangladesh thus it fetches three fold prices there after being smuggled. Similar seizure of liquor was also made by the BSF troops deployed at Nongjuri where 174 bottles of liquor were seized at International Border.
During this year BSF has seized huge quantity of alcohol at border. The sentinels of border have seized 12,367 bottles worth more than 9 lacs of liquor being smuggled to Bangladesh.
Apprehended person and seized items handed over to police station Mahenderganj for further legal action.