North East
Bodos Celebrates Rongjali Bwisagu in Chennai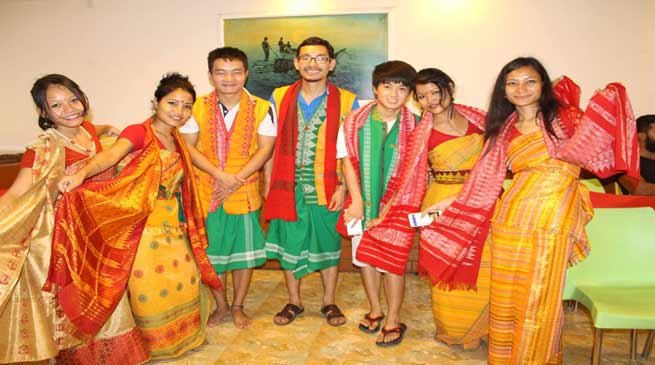 Chennai
Bodo people residing in Chennai celebrated Rongjali Bwisagu for the first time in Chennai on 16th April 2017. The Bwisagu event was held in Adyar, at Olive and Basil located near Sardar Patel road 1.5 km away from Indian Institute of Technology Madras.
The program started with a traditional Bwisagu dance and felicitation of all the guests with the traditional Aronai . Many Bodo students studying in various educational institutions in Chennai including IIT Madras, Rajiv Gandhi National Institute of Youth Development (RGNIYD), Bharath University and Bodo people working in Chennai came together to celebrate this festival. Many people from Tamil Nadu, Andhra Pradesh and Nepal also graced this colorful occasion. Participation of International students from China and Naga Student Association members as guests made the program more colourful.
While speaking on the occasion, Bang Gou a research scholar from China studying in IIT MADRAS said that, "I feel happy to say that I was the only student who represented Bodo Culture by wearing Bodo dress during the International Day organized by the Foreign Students in IIT Madras. I am very happy to see this unique culture and tradition of the Bodos". They expressed their love of the colourful Bodo traditional dresses and the various Bwisagu dances performed during the program.
Lirdang Boro an alumni of Rajiv Gandhi National Institute of Youth Development gave a thought provoking speech about the history of Bodo culture, Bodo people and their struggles. He explained the importance of Bwisagu in Bodo Society and the various celebrations during this festival. "I feel like I am in my village dancing and enjoying Bwisagu" added Fungkha Narzary, a working professional in Chennai .
Many entertaining programs like Bwisagu Mwsanai(Dance), Gan Khonnai(Songs), and Khontai Aorainai (Poems) were performed during the program. The colurful program came to an end with all the people dancing to the Bwisagu songs and enjoying this traditional festival.