Arunachal
Bo, Bokar and Ramo community celebrates Podi Barbi Festival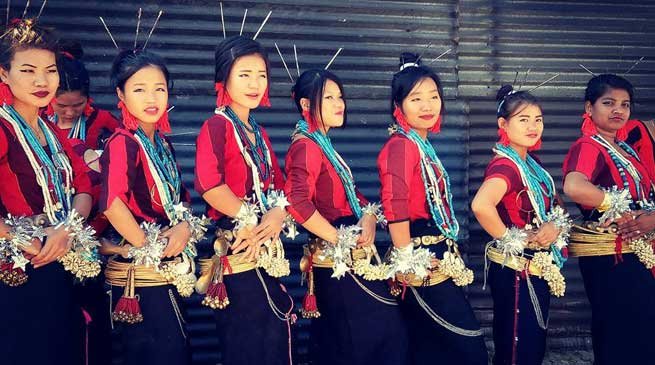 Aalo
The popular festival of the Bo, Bokar and Ramo community celebrated their popular festival, Podi Barbi with traditional fanfare and gaiety at Gumin Kiin on Monday.
Giving his Podi Bari greeting, Jarka Gamlin MLA Aalo East and Chairman APEDA said that festival and festivities represent watermark of our culture and gives us a distinct identity and expose our rich cultural heritage. He stressed on handing down such social responsibility to young generation so that they too take pride in it and maintain them.
Responding to one point memorandum pertaining to construction of permanent Office and Dere for Podi Barbi Committee at Lik Putu, the MLA assured to do it in the financial year 2017-18. He also released a new audio album Nineh Geh Leyinga by the community.
The Guest of Honour  Karsen Lollen, Vice President GWS west Siang and Guest of Honour Shri Minjom Bagra Rtd. APCS said that all festivals are alike and stress on participation by all communities irrespective of cast and community barrier to expose richness of our tribal culture .
 Karsen Lollen also decided to donate one Mithun for celebration of Podi Barbi celebration in the coming year as taken of appreciation and encouragement.
 Azen Pujen, Organizing President PBFCC, Komi Rida, Chief Advior PBFCC, Leedo Ragyour organizing Secretary, Mrs Joti Diru Organizing President Women Wing, Mrs Meena Koje also spelt out the significance and mythological aspects of the Podi Barbi festival. Dances, songs and popular Jajin Ja closely associated with our ancient folklores were vividly presented on the occasion. The Podi Barbi Committee also felicitated Mijum Lona, the Galo Folk lyricist, musician, composer and singer who helped the community in releasing the audio Album