Arunachal
BJP is working for the greater interest of people- Laisam Simai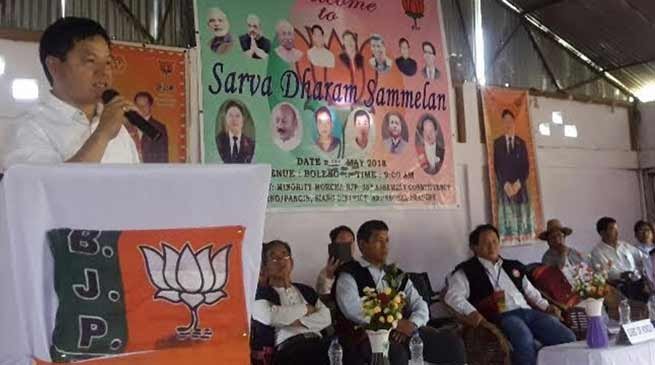 Boleng
BJP is among the largest party in the world working for the greater interest of people from the root level to the highest. Leadership comes by discipline, hard work and faith which BJP holds up, said Parliamentary Secretary for Legal Metrology and Consumer Affairs Laisam Simai.
Simai was addressing a Sarva Dharam Samelan (SDS) as a chief guest. The sammelan was orgainsed by the Boleng-Pangin Minority Morcha on Wednesday .  Minority Morcha state president Loku Sono also attended the sammelan as guest of honour.
"Minister is someone who works for the people and is concern in various issues of them. So one should elect those who will work for the people of the area and state as whole, he added."
Guest of honour Loku Sono in his speech said that minority morcha works for the poor and needy at the grass root level. We don't any difference in minority and majority of religion and work for the uplift of minority of the country and state in specific.
"We have Minority Morcha, Mahila Morcha, Kissan Morcha and many in our state under the banner of BJP. This is because the party is concerned for all the people irrespective of caste, creed and religion, he added."
Special guest BJP state secretary Ojing Tasing said that, BJP is blamed by many people on the basic of religion. There are people from every religion working in RSS for the greater interest of country with a single goal of development.
"It is just a futile approach initiated by few groups to topple down the crystal clear ideology of BJP which is development of country and to generate employment to the unemployed, he said."