Arunachal
Balipara-Charduar-Tawang (BCT) road Inaugurated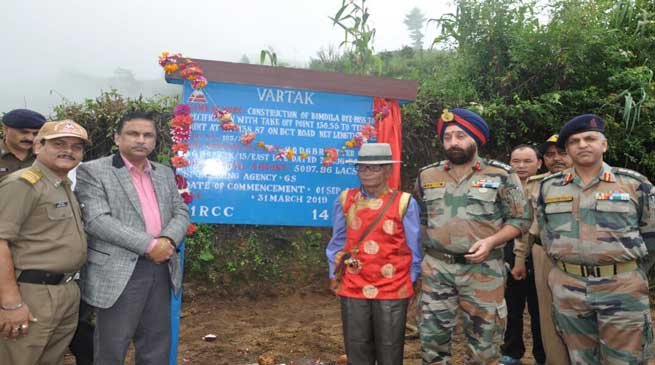 Bomdila
The Bomdila bye pass of the Balipara-Charduar-Tawang (BCT) road was inaugurated today jointly by the Chief Engineer Vartak Brig. JS Ishar and Deputy Commissioner AK Singh in presence of the Gaon Buras and villagers of Wanghoo village under Singchung administrative circle.
In his brief address, Brig. Ishar informed the villagers of the availability of the compensation money which would be disbursed at the earliest. He called upon the villagers to co-operate and extend all possible help for early completion of the road.
DC Singh said that every possible effort was made by the district administration for the last few years to achieve a solution for the dream project. 'At last, the road can see the light of the day, he said and exhorted the Gaon Buras and the villagers to extend  helping hands to 14 BRTF; the executing agency for early and hassle free completion of the said stretch of road.
The administrative approvals for the Bomdila bye pass measuring 11.725 kms in length was accorded by the Director General Border Roads on August 24, 2015 for an amount of 5097.96 lacs with period of completion slated for March 31, 2019. An amount of 6.41 crores have been doled out as cost of land acquisition for a total of 28.14 hectares.
Among others, Commander 14 BRTF Ashish Gupta, EAC Rajiv Chiduni and other rank and files of 14 BRTF were present during the inaugural programme.