Itanagar
Arunchal gets positive nod for Civilian operations of ALGs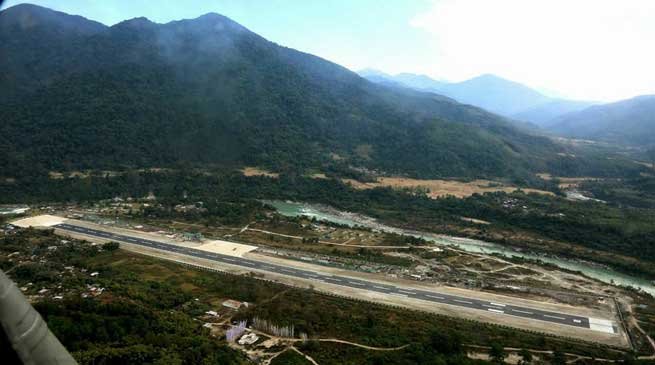 Itanagar   
This is a big news for the people of Arunachal Pradesh, that the constant pursuance by Chief Minister Pema Khandu for Civilian operations  of Advanced Landing Grounds (ALGs) in Arunachal Pradesh bore results today with an intimation from the Union Defence Ministry giving the request a positive nod.
The ALGs across the state have been developed by the Defence Ministry and are under the direct control of the Indian Air Force (IAF).
In a letter dated 31st March 2017, Defence Secretary G Mohan Kumar wrote to the state government that 'scheduled/non scheduled (civil) operations from Ziro, Mechuka, Walong, Along (Aalo), Pasighat and Tuting ALGs are being permitted by the Indian Air Force'.
Work on all the mentioned ALGs have already been completed and test landings done in most.
The Defence Ministry has also allowed use of existing building of the IAF at Pasighat ALG as the temporary civil terminal till the state government comes up with its own terminal.
"The IAF has no objection to the usage of the building at Pasighat ALG as a temporary civil terminal," Kumar wrote in the letter.
The Defence Secretary, meanwhile, requested the state government to approach the Union Ministry of Civil Aviation for construction of civil terminal at these ALGs and for scheduled civil operations.
Khandu has expressed gratitude to the Defence Ministry for heeding to the popular demand of the people of the state. He said with the ALGs open for civilian flights connectivity in the region would receive a major boost directly enhancing tourism and other commercial activities.
"Civilian operations would also bring succour to the sick and needy who require urgent transportation especially from places like Mechuka, Tuting and Walong which takes days to reach by road," Khandu observed.
The Chief Minister has given instructions to concerned authorities in the state government to urgently follow-up with the ministries and fast track all requisite formalities so that civil operations can be started immediately from the said ALGs.