Health
Arunachal: World No Tobacco Day observed across the state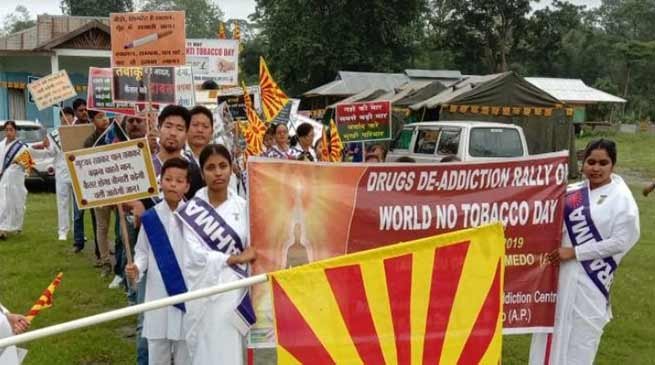 World No Tobacco Day is observed around the world every year on 31 May. It is intended to encourage a 24-hour period of abstinence from all forms of tobacco consumption around the globe.
---
Itanagar
With the rest of the world " World No Tobacco Day " observed across Arunachal Pradesh on Friday, the 31st May.
Medo-  Medo joins rest of the world to celebrate 'World No Tobacco' here today at the Tamla–Du  festival ground on May 31. A free health camp organises on the occasion organised jointly by Brahmakumaris Rajyoga Meditation Centre and Zonal Hospital at Tezu.
Gracing the occasion as chief guest Prince Dhawan , DC Lohit said an annual campaign is an opportunity to raise awareness on the harmful and deadly effects of tobacco use and to discourage the use of tobacco in any form. "Addiction is serious cause of concern. We have to fight it collectively.
The district has tremendous scope to grow economically. We need to harness the potential but addiction has taken to doom. The govt. is ready to facilitate opportunity to the youth and the public of this area. We should jointly fight this menace to make the district free from all sort s of addiction", the DC appeals all to take pledge.
On the occasion Dr S Chai Pul, DMO Lohit highlighted the outcome of Rehab Centre being run by the Zonal Hospital in collaboration with Brahmakumaris Rajyoga Meditation Centre at Tezu where she discloses how effectively the Rehab Center facilitated the Tobaccos and Opium  addicts to get rid of the addiction.
Dr S Towang SMO and Programme Officer informs the public  that " Chewing Tobacco, Smoking, Gutka, Pan Masala and Tiranga contain innumerable harmful chemicals that cause cancer leading 1 million of death every year"
Earlier, the Brahmakumaris Rajyoga Meditation Centre and Zonal Hospital at Tezu accompanied with hundred of youth and common public participated in mass rally sensitizing ill effect of addiction.
Tawang- District Tobacco Control Cell (DTCC) Tawang organized Awareness procession cum Mass Rally to mark World No Tobacco Day (WNTD) on 31st May 2019 at New Market, Nehru Market, Old market and District Hospital Tawang. Awareness procession was also participated by Officers and Staffs of DMO and District Hospital Tawang, Police personnel of Tawang District , Students of KDS Nursing Institute and Manjushree Vidyapith Tawang, Local Medias, IDSP, NCD, and DTCC Staffs.
Awareness Procession was followed by a meeting which was conducted at Conference Hall of District Hospital, Tawang.
 Miss. L W Damo (Psychologist, NTCP Tawang) started the meeting by briefing about importance of World No Tobacco Day and this year's Theme "Tobacco and Lung Health".
Mr. Sang Dorjee Dirkhipa District (Consultant, NTCP Tawang) gave detail explanation about this year's Theme "Tobacco and Lung Health" Power Point Presentation. He also made detail power point presentation of overall ill-effects of Tobacco use with relevant facts and figures.
 Dr. Urgen Lhamu (DPO, RNTCP Tawang) spoke about how tobacco use is related to Lung health and TB (Tuberculosis) through PP Presentation and she informed that most of the TB patients are Tobacco user in the area.
While addressing the meeting, DMO Tawang advised all students and other participants in the meeting to spread awareness about harmful effects of Tobacco to family and friends.
 In the second half, DTCC Tawang in collaboration with the administrative heads of Tawang Monastery (Asia's Second largest Monastery) and Team of CHC Tawang Monastery declared Tawang Monastery Campus a 'Tobacco free Zone' officially on the occasion of World No Tobacco day.