Itanagar
Arunachal: Takam Pario allege unequal distribution of fund for development schemes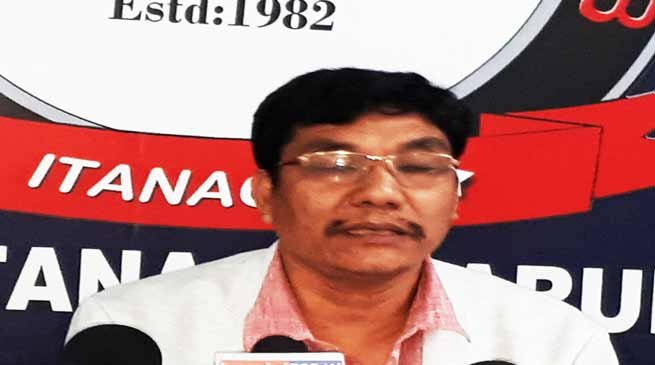 Itanagar
Leader of Peoples Party of Arunachal (PPA) in Arunachal Pradesh Legislative Assembly Takam Pario raised the finger to various works allotted by the Govt on the month of March and same to be completed within the same month, and also alleged the unequal distribution of for various development schemes.
Addressing media persons at Press Club on Saturday he stated, " A work allotted in the first week of month of March, how  can be completed in the remaining  days of March?" This all seems to be careless of the concern department and the officials.
Pario also alleged that under the Untied fund allocation of more than Rs 200 core of work has been allocated to various district of state for the year 2017-18 where, the highest has been to the Assembly constituency of Deputy Chief Minister, at Namsai.
Namsai alone has been allocated for various developmental works worth Rs 2916.08 Lakhs.
"My question is will the fund allocated be used or be returned to the exchequer if the said work is not completed within March. The money has already been allocated for the year 2017-18 and as it's nearing to the completion of the year by March-2018, Pario questioned."
There is hue and cry within the contractors who are not been paid for the finished work till date. Government should have cleared the payments of the contractors beside allocation such huge funds for various works.
Pario has requested public of all concerned district where the fund has been allocated to watch on the quality work. In the meantime he also requested concerned minister/MLA of Assembly Constituency and deputy commissioner of district to look into the quality work and at same time publics fund is being not misused.
MLA and PPA leader Tanga Byaling said, Why is Namsai being allocated the highest fund amounting of Rs 29 crore in the name of development when rest of the district is allocated so less?
Byaling asked the state government to show the clear fund used and work executed by the end of March when all the billing to the workers is paid. If there is any sought of corruption we will disclose all the documents of corruption later, he said.
He also said that an enquiry need to be conducted thoroughly of the schemes and work done.